学生生活|講演・シンポジウム
Oct 1, 2010

From Monday, September 6, until Friday, September 10, 2010, the "United Nations University Global Seminar Japan – 26th Shonan Session" was held at the Shonan Village Center, Kanagawa Prefecture under the theme of "Towards a sustainable Global Society". APU student Dimithri Devinda Jayagoda (GSAM, Sri Lanka) was one of the 100 students and young professionals selected to attend.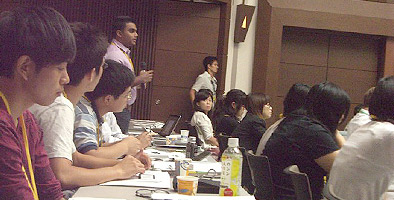 The seminar was kicked-off by a keynote lecture by Professor Dennis Meadows, Professor Emeritus of the University of New Hampshire, under the theme of "Our experience in Sustainability since 1972". During his lecture he described in detail the nature of exponential population growth, industrial output, and pollution, and the strain that they place on the finite resources of our planet. He also suggested that the global society is faced with three choices: accept the collapse of our civilization, postpone such a collapse, or build a more sustainable society.

The second keynote lecture was delivered by the Vice Rector of the United Nations University, TAKEUCHI Kazuhiko, on the topic of "Building a sustainable society under changing climate and ecosystems".

In addition to keynotes lectures, a range of sessions were delivered by a range of academic and experts over the following 3 days of the program on various global issues such as "The present conditions and future prospects of the Millennium development goals (MDGs)", "World Energy Discourses: Beyond the peak-oil Debate", "From oil to Solar", "Low-Carbon Society in Asia", and "Shaping a Sustainable Society in Local Cities and International Cooperation". Each session was followed by a Q and A session.

The participating delegates were divided into 8 groups and, led by a professor, took part in daily group discussions based on that day's sessions. Each group then presented a summary of their discussions on the last day of the conference. At the conclusion of the program, each participant was presented with a certificate of completion and a group photograph was taken.

Looking back on the conference, Mr. Dimithri Devinda Jayagoda said, "This conference was a unique opportunity to interact and discuss with professionals and specialists, in particular from the United Nations. As a graduate student majoring development economics, this was a great chance to frame what I have studied during my coursework and get feedback from such a distinguished guests group of experts. It was a great honor to represent APU at such a conference and broaden my network which I am sure will help me in future career".