The APU Graduation Ceremony was held on Friday, September 10, 2010. We received a number of comments from celebrating graduates on their memories, thoughts and hopes of APU now and in the years to come.
We all look forward to great things from our latest batch of APU graduates.




RAUNGMETHANOPARAT Kriangkrai
(APS, Thailand)
During my time at APU, I spent two years as a Resident Assistant (RA) and RA Leader at AP House. I was also selected for the third student intake of the Global Business Leader Development Program (GBLP). Thanks to the knowledge and leadership skills I gained through friendly competition with my fellow students, I managed to secure a job with a Japanese business. I encourage current students to make the most of their time and enjoy a fruitful four years at APU.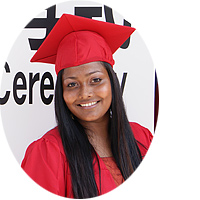 WICKRAMAARACHCHI Niluka
(APS, Sri Lanka)
Coming to APU has taught me so much and being able to live so far away from home has made me independent and given me self confidence. I studied international strategic studies in the College of Asia Pacific Studies and it was great to work with fellow students from around the world and learn about their culture first-hand. I urge all new students to make the most of their four years at APU and take advantage of the opportunities available.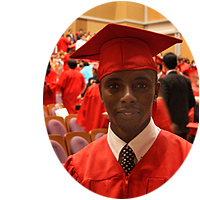 MBWAMBO Mtango
(APS, Tanzania)
APU has been a very open-minded university with no limit to developing your potential. I studied information and communication technology and found the campus to be a great place to learn and enjoy ourselves at the same time. I hope to work in Japan for the next few years and then begin a master's degree.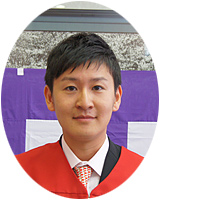 KANG Shuo
(APS, China)
My lasting memory of APU is the opportunity I was given to represent China in the successful Guinness world sauna record challenge. I also served as a Resident Assistant (RA) at AP House. This experience taught me that it is important not only to consider our own opinion, but also the opinions and viewpoints of our peers to arrive at the correct decision. I hope that the junior students will make the most of the multicultural APU campus and enjoy a university life to the fullest without regrets.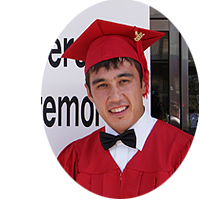 IBRAGIMOV Shohruhbek
(APM, Uzbekistan)
The best thing about this place is the endless opportunities to make great friends from all around the world. During my time here I studied human resource management in the College of Asia Pacific Management. Thanks to the skills and knowledge I gained here, I have been able to secure a job in Osaka in the agricultural machinery sector.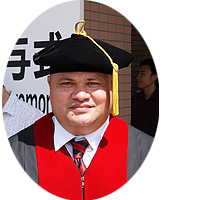 VIKILANI Sione
(GSAD, Tonga)
Coming to APU from such a small island country as Tonga ensured that I faced many challenges, but adapting to the APU environment has made me a better and stronger person. My PhD focused on Tongan politics and I hope to put this knowledge to good use in the tertiary educational sector. My advice to new students would be to be proactive, make lots of new friends and, most importantly, enjoy what you are studying.

OTA Keisuke
(APM, Japan)
I studied in Australia as a high school student and went on to study at an Australian university. However, I also wanted to study in Japan and therefore decided to transfer to APU – a university that allowed me to make use of the English language skills I had developed. My time here has given me the motivation to put 100% into everything I take part in and given me pride in my abilities. I hope that junior students will be proactive and go on to become globally active graduates.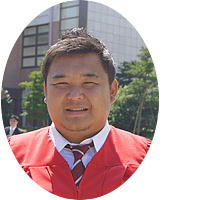 CHON Tesun
(APS)
Spending four years in APU's multicultural environment of diverse cultures, religions, and languages, has given me a wider outlook on life. My experiences at APU played a huge role in my decision to take part in the Peace-Boat volunteer project. I hope to remain involved in similar activities in the future and make a positive contribution to society. I also hope that the junior students will travel abroad, experience all kinds of new things, and return to APU with a new outlook.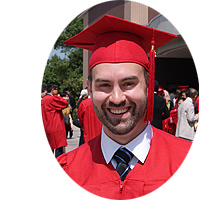 FORSBERG Erik Magnus
(APM, Sweden)
Studying at APU has been a wonderful experience for me and my seminar classes were a great source of academic inspiration. I have made so many friends of different nationalities and cultures from all over the world. I highly recommend APU and would love to do it all over again. In the coming months I plan to return to Sweden and take up a position in a major international rapid-transit company.

HE Xie
(APM, China)
To be honest, I did at first struggle with the Japanese language and with my new life here in Japan away from my home country. But thanks to the help of friends, teachers and members of the local community, I was able to spend a very meaningful four years here. That I have secured a job with a Japanese business is a testament to the help I have received from so many people. APU is a university where we can apply our knowledge and skills and I encourage current students to make the most of their time here.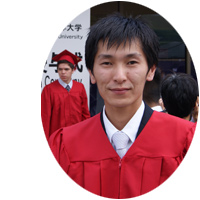 BAATARZORIG Mandkhai
(APM, Mongolia)
I came to APU in 2006 and had a great experience studying with many exciting professors and taking part in field studies. I studied logistics in the College of Asia Pacific Management and was lucky enough to take part in a field trip to the USA which gave me the opportunity to meet specialists and polish up my business skills. In the coming months I intend to take up a position in Fukuoka at an international trading company.