On Thursday, September 30, 2010, a Closing Ceremony was held to mark the end of the APU 10th Anniversary Celebrations. Held at the APU Cafeteria, the ceremony brought the curtain down on celebrations which began on October 1, 2009.





Student-staff emceed the ceremony and introduced each of the colourful events held over the last 12 months including the "Perspectives on a New Era –Japan, America and China" Commemorative Symposium, the "World Catch-ball Classic" held in cooperation with the Japan Professional Baseball Players Association, and the "APU PRESS" newspaper project put together by APU students and the Oita Godo Shimbun.

A ceremony was then held for the 5 winners of the "10th Anniversary Merchandise Idea Contest" who each received a certificate and memento. The Grand-Prize winning "APU Rice Flour Cookies" merchandise idea of HATAZOE Airi (APS4, Japan) and the "Thank You Present" pin-badge concept based on the design entered by SATO Yuki (APS3, Japan) are scheduled to be unveiled at the October 23, 2010, Tenku Campus Festival.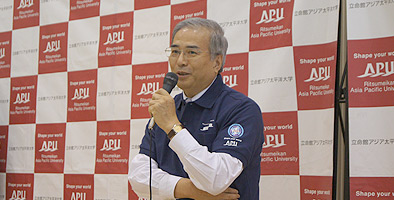 APU President KORENAGA Shun then addressed the audience and said, "APU has the noblest of missions - a mission of freedom, peace and humanity. Today many conflicts and disputes continue to occur throughout the Asia-Pacific region, but I have faith that APU students and graduates will play a role in their peaceful solution. As we prepare to face a new decade, I hope that you will all reaffirm your commitment to this, our ultimate goal".

Bringing the ceremony to a close, the student emcees called for APU students to "work together and create the next 30, 50 and 100 years of APU history" before a commemorative group photo was taken with the many students and faculty members in attendance.

Also making a campus appearance was the APU 10th Anniversary advert-bus that has been serving local bus routes as a way of expressing APU's graduation to the community. Many students and staff took advantage of the opportunity to take a photo together with the bus.

Although the anniversary celebrations have now come to a conclusion, people may continue to view information about 10th Anniversary projects and enjoy messages posted on the 10th Anniversary website.
The 10th Anniversary website: http://www.apu10th.com/