On Monday, September 27, 2010, a guidance session was held at APU focusing on the Overseas Diplomatic Mission Dispatch Staff Program run by the Ministry of Foreign Affairs (MOFA). The session welcomed APU graduate MURAKUMO Kazumi (APM Grad, spring'05) who currently works at the Consulate-General of Japan at Denpasar (Indonesia) as a Dispatch Staff member, and OHARA Katsuya (GSAM2, Japan), a current APU graduate school student and former Dispatch Staff member at the Japan Embassy to Ghana.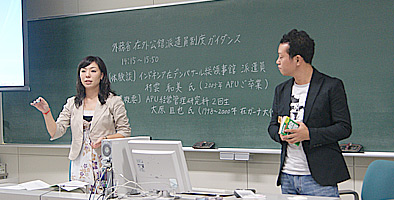 Made possible through an offer by MURAKUMO Kazumi currently on home-leave, this session was held to help students studying in APU's international environment become more aware of the opportunities offered by the Overseas Diplomatic Mission Dispatch program, and to encourage more students to take part.

During the session, Mr. OHARA explained the position and job description of a Dispatch Staff member working at an overseas embassy, described the lead-up to his time as a Dispatch Staff member, and spoke of his experiences in Ghana. Describing the kind of characteristics needed as a successful Diplomatic Dispatch Staff member, Mr. OHARA said that potential Diplomatic Dispatch Staff should be adaptable to new circumstances, cooperate well with others and have a good grasp of languages to ensure smooth communication.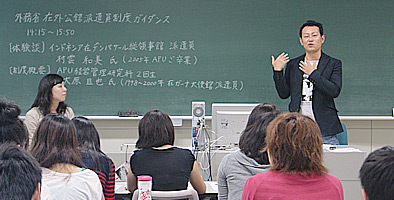 Ms. MURAKUMO shared an interesting episode about the time the former-Prime Minister of Japan, HATOYAMA Yukio, visited Indonesia and also described how Japanese nationals should respond to local troubles they may encounter based on her experiences. She also offered a message to current students, "APU enjoys a wealth of students from many different nations. In addition to improving your language skills, I am sure that you can experience many things during your time here. I encourage you to draw strength from the experiences you have gained in APU's multicultural environment and sit the Dispatch Staff exam. During your time as a Dispatch Staff you can meet many different people overseas and these experiences will no doubt have an influence on your future career path".

During the Q&A session that followed, many students took the opportunity to ask more questions about the Dispatch Staff program and study techniques for the exam. At the conclusion of the session, a number of students gave their impressions, "It was a great opportunity to learn about the Dispatch Staff program and to hear their experiences". "I hope that there are more opportunities in the future to hear from APU graduates in similar guidance sessions".

In addition opportunities to study in both English and Japanese through APU's bilingual education system, a range of courses promoting a high level of language proficiency are also available through the APU Center for Language Education in each of the six "Asia-Pacific (AP) Languages", namely, Chinese, Korean, Malay/Indonesian, Spanish, Thai, and Vietnamese.
Reporter, Student Press Assistant (SPA): Nagatomo Rie(APS1,Japan)