From Wednesday, September 8, until Saturday, September 11, 2010, three members of the APU volunteer student circle "APU Peace Village International" visited and interacted with children at "Friedensdorf International", the headquarters of Peace Village International. Peace Village International is involved in volunteer work by providing medical care and rehabilitation for children affected by war and conflict before returning them to their home nation.



On October 8, the APU students brought along origami paper and, split into three groups, made paper planes and Japanese "kabu" hats, played hand games and enjoyed interacting with the Peace Village children. On October 11, the group took part in a tour of the Peace Village facilities and taught the children a traditional Japanese dance.

Circle representative, YOKOMINE Shino (APS3, Japan), gave her impressions of the trip, "Before visiting the hospital, I tended to feel sympathy for the sick and affected children. But having now visited the children and seen their energy and vitality and how they have overcome their disabilities, I can see just how strong they are. They were a great source of energy for me".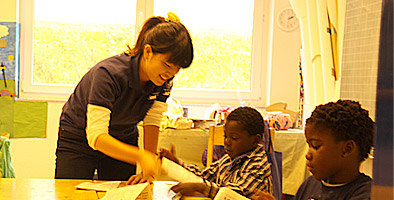 APU Peace Village International was established in autumn 2009 and has held a number of study groups and donation appeals. Photos taken during their trip to Germany and images provided by Peace Village International are on display at the "Peace x Piece" photo exhibition currently being held as part of the Oita City and JICA Kyushu hosted Oita International Cooperation Awareness Month. The group also plans to hold a special lecture entitled "A World Without Peace Village International" with former volunteer staff at Friedensdorf International.


O Photo Exhibition "Peace x Piece"
Time/date: Wednesday, Oct. 6 - Saturday Oct. 9
Venue: Compal Hall, 2F Public Gallery


O Special Lecture "A World Without Peace Village International"
Time/date: Sunday, October 10. 14:00 onward
Venue: Oasis-hiroba 21, Basement L1, Public Gallery


* Please click here for more information on these and other Oita International Cooperation Awareness Month events: