From Friday, September 17 until Monday, September 27, 2010, seventeen members of "Habitat APU" took part in an awareness campaign around Kyushu as part of the "Charinko Purezen APU Ver." cycling tour. "Habitat APU" is a student branch of the international NGO, Habitat for Humanity International (HFHI).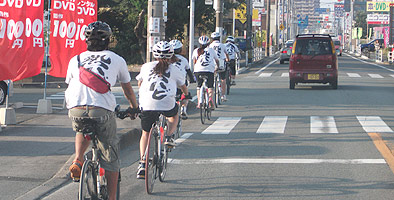 Aiming to get more people interested in the initiatives of "Habitat for Humanity" and world poverty, "Charinko Purezen" participants cycled through northern Kyushu's Kumamoto, Fukuoka and Oita Prefectures holding street donation appeals and presentations at local high schools and universities. Held also in September 2009, this is the second "Charinko Purezen".

During their high school workshops, the APU students introduced Habitat for Humanity achievements and activities, and also their parent organisation, HFHI. During the workshop, Habitat members instructed the students to carefully draw their ideal town on a large piece of paper. Without warning, the Habitat students tore the pictures into pieces as a way of illustrating the unpredictable and sudden nature of disasters. The "If the world were a village of 100 people" activity also illustrated the massive economic gaps that exist between the developed and developing nations. The donation appeal across four sites in Kumamoto Prefecture managed to raise almost 2,500 (USD) in four days*.




The group experienced outdoor camping as they made their way to their final destination, Beppu City Spa-Beach. A few injuries were sustained on the journey but all cyclists managed to reach their goal on the 27th. A number of members remained in Beppu to welcome back the cyclists. Despite the pouring rain, the cyclists were greeted with a big "welcome home" banner.

"Charinko Purezen" planning representative, HOJO Tomohiro (APM2, Japan) commented on the project, "I wish to thank everyone who gave us their support - without which, this project would never have happened. It would be a great honor for me if people took a greater interest in global poverty and our work at Habitat APU as a result of this 'Charinko Purezen' project".




Habitat APU is currently exhibiting a number of photos introducing their volunteer work as part of the APU 10th Anniversary Photo Exhibition currently being held at Oita Airport. They will also be participating in the Oita City and JICA Kyushu sponsored 2010 Oita International Cooperation Awareness Month. On Saturday 9, three APU volunteer circles will present a joint information session.
Please see the following links for more details on APU events.

The APU 10th Anniversary Photo Exhibition

2010 Oita International Cooperation Awareness Month


*All funds collected are donated to their parent organisation, Habitat For Humanity International, and are put towards housing project construction funds.