From Sunday, September 5, until Saturday, September 18, 2010, seven domestic APU students took part in the inaugural "Globe-Trotters' Network - Journeys for Change" project in Sri Lanka. During their two-week journey through Sri Lanka, participants took part in a range of volunteer activities at local orphanages and schools, experienced local life with Sri Lankan homestay families, and much more.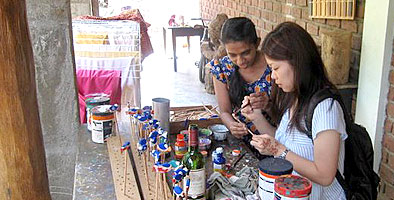 Led by Sri Lankan APU international student, MOHAMED. S. M. Mafazkhan (APM4, Sri Lanka), this project and aims to engage in interaction and activities around the world for the promotion of peace, humanity and development.

On day 2 of the project, students were taken to the rural areas of the Matale District to experience the reality of the extreme living conditions and encourage students to get involved in volunteer activities in the future. Meanwhile on day 12, GTN participants held a Japanese language workshop at Garnet International School in Thihariya City, and a presentation at Azhar Central School for final-year high school students introducing the opportunities for higher education and career opportunities in Japan.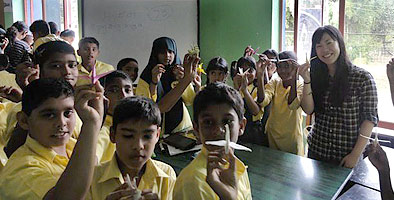 GTN students also visited the "Sigiriya Fortress", a UNESCO World Heritage site, local Ceylon tea plantations, Dambulla and its ancient cave temples, and a local elephant orphanage where they learnt about the importance of animal conservation. Furthermore, by providing participants with three different host families on a rotating basis, the APU students were able to experience Sri Lankan life with Buddhist, Hindu and Muslim families and gain a deeper understanding of the enormous cultural diversity of the island nation.

GTN participant, NAKAGAWA Airi (APS3 Japan) commented on her experience, "This project was one of the most unforgettable experiences of my life. The local children and people were so very kind and open to us and I will never forget their hospitality. Thanks to this project I have made so many precious memories such as teaching Japanese to local children and cultural exchange with my host families. I wish GTN every success in the future".




Looking back on the project, GTN founder Mohamed Mafazkhan, spoke of his hopes for the project "This project would not have been possible without the support of many Sri Lankan and Japanese volunteers and project members. I hope that through the GTN project, students have gained a better understanding of Sri Lankan culture and that the links we have created on this journey lead to greater exchange between APU and Sri Lanka".

The next GTN projects are a business internship project to the United Kingdom and Sri Lanka in spring, 2011. More information and photos are available at the GTN Facebook page