On Tuesday, October 19th, 2010, seven APU students participated in the 8th Japanese Speech Contest for Foreigners held at Yoshikan High School in Oita City. APU students TSEREGJIL Azjargal (APM4, Mongolia) and ADULU Lynnet Musimbi (APM3, Kenya) won the 2nd and 3rd place prizes respectively. All seven participating APU students won prizes for their efforts.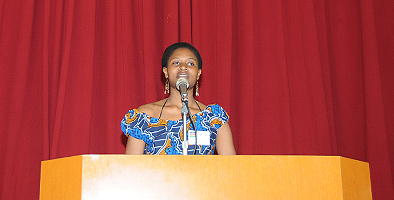 Hosted by the Educational Foundation GOTO GAKUEN, this annual contest aims to promote the understanding of international culture and is held for foreign nationals who have lived in Japan for less than five years. Of this year's 28 student applicants from around the prefecture, 12 passed the initial screening. Seven of the 12 were from APU, while the other students were from Oita University and Beppu University.

The participants from APU wowed the crowd of Yoshikan High School students and judges with their flawless, fluent Japanese, the fruit of their daily studies, and received high marks.

On winning second prize for his speech entitled "Journeys", ADULU said, "While I did not have much time to practice, I focused my efforts on remembering the speech and on proper pronunciation. It was my first time to participate in a speech contest, so I am very happy with the outcome. I have been taking classes in English and have not studied Japanese language or culture in a while, so this contest was a great opportunity to study Japanese conversation again. I am very grateful to my coach."
Thanks to this accomplishment, ADULU was invited by the judges to give a speech in Japanese at a junior high school in Oita city.

CHOI Seung Joon (APM3, Korea), who joined the contest to check the progress of his Japanese studies, won the Yomiuri Shinbun Seibu Prize with her speech entitled "An Unexpected Teacher". He showed his desire to continue studying Japanese by saying, "I focused the most attention on trying to achieve native pronunciation, and practiced everyday for over a month. I am very pleased with my performance and am certain this experience will help me to continue growing. The other students all gave good speeches, and it made me want to study harder. Next time, I will try for the Grand Prize."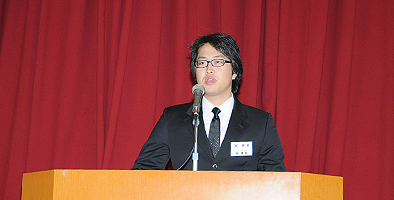 8th Japanese Speech Contest for Foreigners:
2nd Place: TSEREGJIL Azjargal (APM4, Mongolia)
Theme: "Living in the Present"
3rd Place: ADULU Lynnet Musimbi (APM3, Kenya)
Theme: "Journeys"
The Yomiuri Shinbun Seibu Prize: CHOI Seung Joon (APM3, Korea)
Theme: "An Unexpected Teacher"
OITA GODO SHINBUNSHA Prize: ZHENG Ting (APM4, China)
Theme: "I'm Glad I Came to Japan"
OBS Oita Broadcasting System Prize: TRAN Nguyen Anh Thu (APS3, Vietnam)
Theme: "Almost Zero Chance"
Television Oita System Prize: WIGNJOSOESASTRO A. (APM3, Indonesia)
Theme: "My Bittersweet Memory"
The Nishinippon Shimbun Prize: Nguyen Ngoc Huong T. (APM3, Vietnam)
Theme: "Immigration Law"