On Wednesday, December 1, 2010, a "Kado" Japanese flower arranging lesson was held for exchange students by Mr. TSUNEMATSU, a master in the art of the "ikenobo" style of flower arrangement.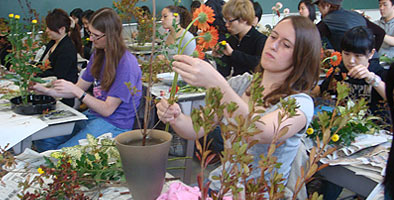 This lesson was held as part of a program for exchange students to experience Japanese culture during their 6-12 month time in Japan and also to promote exchange between exchange and full-time students. This is the program's third installment following events which saw participants trying on Japanese Yutaka and enjoying watching sports together.

After instruction from Mr. TSUNEMATSU on the hidden meaning of each individual flower and the beauty and elegance of Japanese culture, the students tried their hand at flower arranging using this season's flowers. A number of students struggled with the complexities of ikebana flower arranging but the event proved to be a great opportunity to experience Japanese culture with their "hearts".




Participating exchange students commented on their experience: "it was a great opportunity to learn more about the subtle art of Japanese flower arranging", "Although more difficult than I fist expected, I managed to visually express the world as I see it".

In the fall semester of 2010, APU welcomed 51 short-term students onto the campus including 43 exchange students coming from 29 of APU's partner universities (including domestic students) and 8 study-abroad students. Including the exchange students who came last year and are still on-campus, this brings the total to 61 students from 19 different countries and regions (including 51 exchange students from 33 partner universities and 10 study-abroad students).

The students' flower arrangements are on display outside the Academic Office until Friday, December 3. Please be sure to come and take a look.