On Wednesday, November 25, 2010, the "2010 Fall Conferral Ceremony for Scholarship and Awards" was held at the APU Convention Hall. Three students were awarded the ANDO Momofuku Scholarship*, twelve students were awarded the Academic Merit Scholarship, and nineteen students were awarded the Academic Merit Certificate.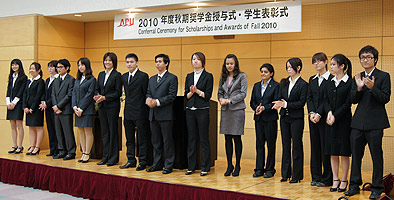 The Ceremony began with an opening address by APU President KORENAGA Shun. The award recipients were then announced and called to the stage before a student representative of each award and scholarship group was presented their certificate by the Dean of the College of Asia Pacific Studies, Prof. EADES Jeremy, and Dean of the College of International Management, Prof. YOKOYAMA Kenji. The ANDO Momofuku Scholarship was presented by President KORENAGA.

Speaking on behalf of the Academic Merit Scholarship Recipients, SETHURAM Shyamala (APM3, India) expressed her thanks, "I wish to thank APU for this scholarship and the many opportunities it provides. I have been able to excel over the last semester because I have really enjoyed my studies and activities. I also wish to thank my peers, family, professors and my sister (also an APU student) for their endless support and to whom I owe this achievement".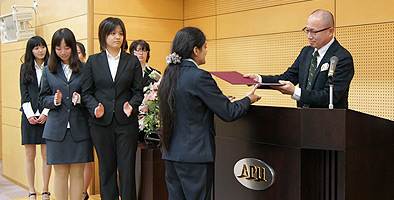 The ceremony was brought to a conclusion with a closing remark by the Dean of Student Affairs, Prof. KIM Chan Hoe who expressed his delight at the students' results and encouraged more students to take advantage of scholarship opportunities in the future.

At the conclusion of the ceremony, recipient of the ANDO Momofuku Scholarship, Martyn DENIS (APS3, Belgium), expressed his gratitude and spoke of his goals for the future, "I hope to use this scholarship as a stepping stone towards gaining further specialized knowledge and language skills and work towards my ultimate goal of bringing homes, sustainable incomes and sustainable natural resource management to people in the Asia Pacific region".

*The ANDO Momofuku Scholarship was founded through the generosity of the late Honorary Doctor ANDO Momofuku, the founder of the Nissin Food Products Co., Ltd. to encourage and support students who have outstanding academic records, are of good character, and have played a leading role in various activities.
The ANDO Momofuku Scholarship will be renamed as the ANDO Momofuku Award.


2010 Spring Scholarship

The ANDO Momofuku Scholarship

DENIS Martyn Francis Mario Andre APS(College of Asia Pacific Studies)3,Belgium
SANDUIJAV Tserendolgor APS(College of Asia Pacific Studies)3,Mongolia
TAMBUNAN Nicole Amanda Rubbia APM(College of Asia Pacific Management)2,Indonesia

The Academic Merit Scholarship
RAYMENT Justin R. APS(College of Asia Pacific Studies)4,Australia
BAE Mihyun APS(College of Asia Pacific Studies)3,Korea
IM Ha Na APS(College of Asia Pacific Studies)3,Korea
GU Pingyuan APS(College of Asia Pacific Studies)2,China
HUANG Zhongli APS(College of Asia Pacific Studies)2,China
LE Tuan Anh APM(College of Asia Pacific Management)4,Vietnam
LI Xiyue APM(College of Asia Pacific Management)4,China
ZHOU Ying APM(College of Asia Pacific Management)4,China
SOUZU Kumiko APM(College of Asia Pacific Management)3,Japan
SETHURAM Shyamala APM(College of Asia Pacific Management)3,India
SARTRAPAI Yanisa APM(College of International Management)2,Thailand
ZHUANG Fangjie APM(College of International Management)2,China

The Academic Merit Certificate
ZHANG Wei APS(College of Asia Pacific Studies)4,China
VO Thanh Dat APS(College of Asia Pacific Studies)4,Vietnam
KAWAI Hiromi APS(College of Asia Pacific Studies)3,Japan
KWON Soonji APS(College of Asia Pacific Studies)3,Korea
SANDUIJAV T. APS(College of Asia Pacific Studies)3,Mongolia
DENIS Martyn F. M. A APS(College of Asia Pacific Studies)3,Belgium
NISHIKAWA Chihiro APS(College of Asia Pacific Studies)2,Japan
YOO Jin Wook APS(College of Asia Pacific Studies)2,Korea
SHI Hui APS(College of Asia Pacific Studies)2,China
CUI Xiaofei APS(College of Asia Pacific Studies)2,China
LE Huynh Gia Hoang APM(College of Asia Pacific Management)4,Vietnam
NGUYEN Xuan Dat APM(College of Asia Pacific Management)3,Vietnam
PUTARATORN P. APM(College of Asia Pacific Management)3,Thailand
YU Fangqi APM(College of Asia Pacific Management)3,China
XU Hanzhi APM(College of Asia Pacific Management)3,China
BAE Hong Chul APM(College of International Management)2,Korea
TAKASE Eri APM(College of International Management)2,Japan
ZHENG Rui APM(College of International Management)2,China
XU Yibei APM(College of International Management)2,China