"Multicultural Weeks" are being held again this year on the APU campus. Held over a month, this event will put the spotlight on some of the many countries & regions represented on the APU campus and introduce their different language and cultures. Staring on Monday, December 6, the first installment, African Week, is now underway and will run until Friday, December 10.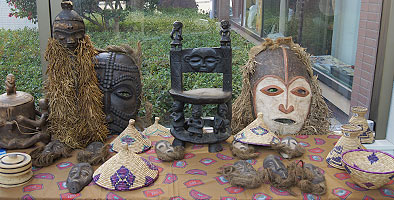 Planed and organized primarily by students from Kenya and Cameroon, students from across the African continent are involved in this event including Nigeria, Botswana and Ghana. The cafeteria display booth will feature a range of events including a display of regional and ethnic costumes from participating students' home countries, a mask display and an African promotion video put together by participating students. African-style "hot-pot" stew and a Ghana-style stew with peanut butter will also be available on the cafeteria menu. During the week, a number of pieces loaned from African embassies will also be on display.

Adding a final touch to African Week, the "Grand Show" will present the audience with the story of a village leader who travels the entire African continent in search of his successor. With traditional dances, music and costumes, the event will also feature a rousing stage performance of an African salsa and "Waka Waka", the official song for the 2010 FIFA World Cup recently hosted in South Africa.
We hope to see you there!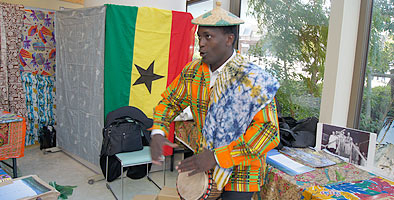 Schedule for African Week


Monday, December 6 - Friday, December 10. 10:00-17:00 @ APU Cafeteria
Traditional costumes, masks and ornaments display, promotion video screening

Wednesday, December 8. 10:00-16:00 @ APU Gymnasium
International Futsal Tournament
(Open to APU students only, members of the public are welcome to watch)

Friday, December 10. 18:30-20:30 @ APU Millennium Hall
African Week Grand Show

*The participating countries for the Fall 2010 Multicultural Weeks are as follows:
Monday, December 6 Friday, December 10: African Week
Monday, December 13 Wednesday, December 15: Japanese Week
Tuesday, January 11 Friday, January 14: Bangladesh Week
Monday, January 17 Friday, January 21: Taiwan Culture Week