On Saturday, November 21st, BAE Hyun Ho (APS4, Korea) took first place and KAWAKAMI Tomoki (APM4, Japan) took second place in the 2nd Kyushu-Okinawa Bahasa Indonesia Speech Contest held in Fukuoka and sponsored by the Persatuan Pelajar Indonesia di Jepang (Indonesian Exchange Student Association of Japan).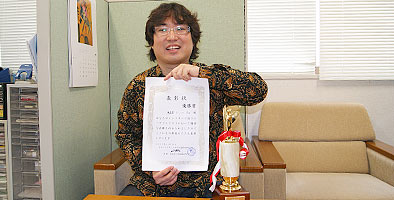 Fifteen participants, including university students and the general public, took part in the contest, of which an impressive 9 members were APU students. First and second place winners, BAE and KAWAKAMI, also participated in the Indonesia Culture Day festivities that took place on Saturday, and gave their speeches in front of a large audience. A group of APU students also took to the stage to perform a traditional Indonesian dance called the saman dance.

First place winner BAE gave a speech entitled "Indonesians and Koreans are Friends" in which he explained that the Indonesian and Korean languages share many of the same sounds. BAE explained how he improved his Indonesian fluency and discussed his aspirations for the future as follows: "I practice by talking to my Indonesian friends in AP House, and whenever I hear conversations in Indonesian on campus, I proactively approach the students who are talking. APU's campus environment has helped me to improve my skills. In the future I would like to make business connections with Indonesia, which is still undergoing rapid economic growth, and I intend to continue studying the Indonesian language."

Second place winner KAWAKAMI reflected on the contest by saying, "I entered the contest with the aim of improving my Indonesian language skills. While I was practicing, I noticed that I started to understand the language more and that my pronunciation and rhythm were becoming more natural. As a result, I won second place, and I am very pleased. I graduate next spring, and going forward I want to make sure I don't forget the language I learned at APU."

APU provides students with the opportunity to develop advanced language proficiency by offering beginner, intermediate and advanced classes in six Asia Pacific languages—Chinese, Korean, Malay/Indonesian, Spanish, Thai and Vietnamese.