On Saturday, November 20, 2010, Representative of the APU Spanish language study circle "Djobi Djoba", NAMBARA Asami (APS2, Japan) won the Spanish Ambassador's Prize at the Spanish Society of Japan hosted "Prince Takamado Trophy All-Japan Spanish Speech Contest" in fine form.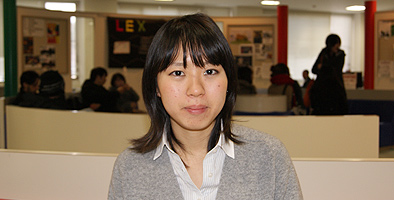 The twelve participants who made it through the selection stages each delivered a three-minute speech in Spanish and responded to questions as they vied for the Prince Takamado Trophy. Ms. NAMBARA delivered a fine speech based on her experiences of living in Spain before receiving her certificate, a book about Picasso and a Loewe leather bag from the Spanish Embassy.

Looking back on her achievement, Ms. NAMBARA said: "This was my first time to appear at a national competition so I was rather nervous, but I was able to do my best as both a representative of my circle and APU. I hope to make the most of this experience in my future endeavors".

Established in May 2010, members of the "Djobi Djoba" Spanish Study Circle continue to work towards improving their Spanish language skills. In addition to on-campus grammar and speaking study groups with Spanish native-speakers, the group also organizes language study trips to Spain during the summer holidays and is actively working towards acquiring "real-life" Spanish. Let's look forward to more achievements and developments from the group in the future.