On Friday, December 10, 2010, 'The Beauty of Africa' 2010 African Week Grand Show was held at the APU Millennium Hall to mark the successful completion of African Week. Hundreds of students, professors, staff, as well as local citizens came to witness the passionate performance and enjoy the colourful display of African culture. The event also hosted as special guests the Ambassadors of Kenya and Zambia.


The show kicked off with the opening addresses from Professor SANGA-NGOIE Kazadi,the Zambian Ambassador to Japan, H.E. Dr. Mbikusita W. Lewanika, and the Kenyan Ambassador, H.E. Ben H.O. Ogutu. All of them spoke highly of the significance of African week and encouraged this kind of event to be held more to promote the exchange and communication between a united African community, Japan and the international community in the future.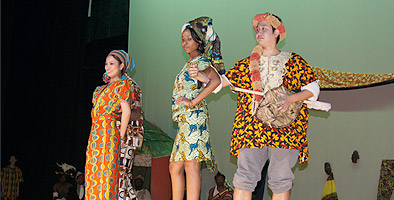 After a short video gave the audience a glimpse into the beauty of Africa, the curtain went up and the performance started before an excited audience. Centering on the story of a leader who travels the entire African continent in search of his successor, each scene presented a different African culture through a series of traditional dances, music and costumes. The dances samba, minyororo and salsa dances impressed the audience and received a rousing applause. Bringing the event to a close, audience members were invited onto the stage to sing and dance to the "Waka Waka" song - the official song for the 2010 FIFA World Cup recently hosted in South Africa.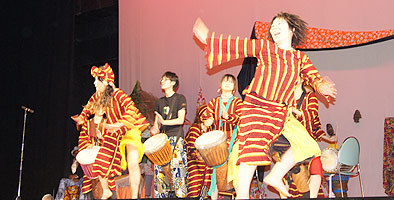 CYPRIAN BAMA Nji (GSAM, Cameroon), spoke of taking part in the event: "It was my first time to take part in this kind of event and I found it really interesting. Though I am not good at dancing, I danced with my friends together on the stage and had a great experience!" An audience member also commented on the performance: "I was impressed by the wonderful music, dances and costumes. The performance has given me a wider outlook and better understanding of Africa".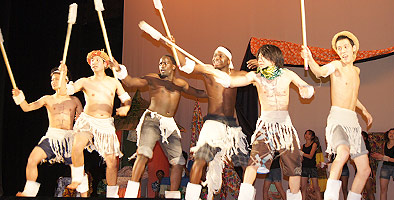 African Week marked an excellent beginning to this semester's Multicultural Weeks. Let's look forward to the remaining Weeks and enjoy the colorful multicultural atmosphere of APU together!
Reporter, Student Press Assistant (SPA):MAO Zhewei(APM2, China)