On Tuesday, January 18, 2011, five students were presented their scholarship at the Daikin Industries, Ltd. Scholarship Conferral Ceremony held at APU.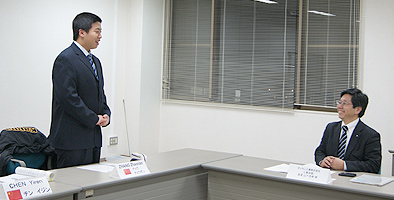 This scholarship was established in AY2008 with the aim of nurturing graduates who can make a contribution to regional advancement and social development in the Asia Pacific Region. The ceremony was attended by Daikin Industries, Ltd., Director of Human Resources, Mr. YAMASHITA Hiroyuki APU Vice-President YAMAGAMI Susumu and the AY2010 scholarship recipients.

Following an address by APU Vice-President YAMAGAMI Susumu, Mr. HIROYUKI gave the recipients a few words of encouragement before presenting them with their respective scholarship: "Daikin Industries has over forty-thousand employees around the globe who are busy building business relationships with a wide range of people. The opportunity to study on the APU campus that brings together such a rich variety of cultures is something truly special. And being able to spend time with people of different cultures and environments is a real treasure. I hope that you will take on as many challenges as you can during your time here and use this scholarship to motivate you in your studies and bring you one step closer to your dream".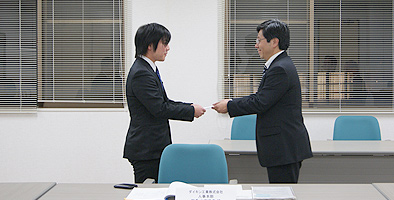 Scholarship recipient, RAHARJA Irandy (APM3, Indonesia), expressed his gratitude for the scholarship: "My dream is to promote the IT industry and contribute to educational development in my home country, Indonesia. With this goal in mind, I want to work in Japan and gain more technical skills and knowledge. With this scholarship, I will continue to work towards my dream".

A question and answer session was then held offering students the opportunity to display their interest in Daikin Industries and ask about the company's business ventures in developing countries, the business climate, internationalization initiatives, and more.

In addition to this is scholarship, Daikin Industries also offers cooperative-lectures and provides its support as a partner corporation of the APU "Global Business Leaders Development Program". As a member of the Advisory Committee, Daikin also continues to support APU in its initiatives to develop graduates with the skills needed to play an active role on the global stage. Run by APU, the "Global Business Leaders Development Program" was made possible through the support of the Japanese Government.

The AY2010 Daikin Industries, Ltd. Scholarship Recipients:
ZHANG Zhaonan (APM2, China)
CHEN Yiren (APM2, China)
RAHARJA Irandy (APM3, Indonesia)
YOO Hyunseok (APM3, Korea)
ONIZUKA Ryosuke (APS3, Japan)

*The Advisory Committee
Established before the university opened, the Advisory Committee aims to provide multifaceted support to the University and currently has 323 members* including former heads of state of nations around the world, ambassadors, and leading figures in the Japanese business and economic circles. The Committee continues to make a range of contributions to the development and enrichment of study and research at APU.
* As of January 1, 2011