講演・シンポジウム|来学者
Feb 3, 2011
On Tuesday, January 18, 2011, Dr. Tsedendamba BATBAYAR, current Minister and Deputy Head Mission of the Embassy of Mongolia in China visited APU and gave a lecture to an audience of students based on his experiences in international relations in East Asia; politics and security issues in China, Japan and the Korean Peninsula; and the politics, economics, and security issues facing Mongolia.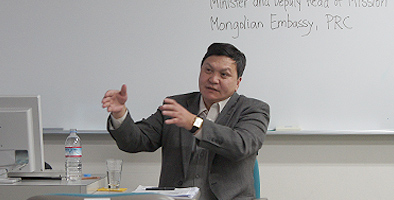 During his lecture, the Minister first spoke about Mongolia as a young democratic country along with its history, economy, politics and future aspirations including participating in the next East Asia Summit and becoming a member of the Asia Pacific Economic Cooperation (APEC). This was followed by a series of questions as well as an open discussion regarding the Korean Peninsula and the Chinese economy in relation to Mongolia and other countries.

The Minister asked a number of questions to the students in the audience. KOH Kok Koon (GSAM, Singapore) was asked about how his country was being affected by the growing Chinese economy. Mr. KOH replied that his country was affected through direct foreign investment from China. He also stated that over the last 5 years, direct Chinese investment has played a major role in the nation's economic growth.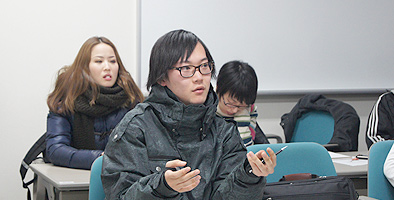 At the end of the lecture, the Minister concluded that East and Southeast Asian economies are continuing to enjoy economic growth and that APU students are positioned well to take advantage of this as they seek jobs in the future.

Minister BATBAYAR is proficient in English, Russian and Chinese and has previously been Director for several departments within the Ministry of Foreign Affairs, Mongolia. The Minister stayed at APU for two days.

There are currently thirty-seven students from Mongolia studying at APU (as of November 1, 2010). The University continues to enjoy a strong relationship with Mongolia and had the pleasure of hosting the Ambassador Extraordinary and Plenipotentiary of Mongolia to Japan, H.E.Mr. Rentsendoo JIGJID in December, 2009.
Please click here for an article about Ambassador JIGJID's visit: