On Thursday, February 17, 2011, two ANDO Momofuku Honor Prize recipients, seven ANDO Momofuku Scholarship recipients and two Ritsumeikan University ANDO Momofuku Scholarship recipients visited the NISSIN FOODS Group, Head Office in Osaka.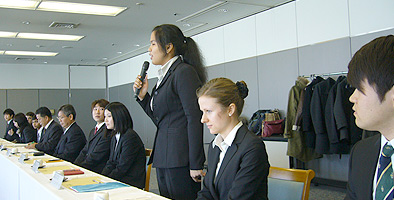 During their meeting with the President of Nissin Foods Holdings Co., Ltd., Mr. ANDO Koki and Nissin company executives, the scholarship recipients each expressed their gratitude and spoke of their goals for the future. ANDO Momofuku Scholarship recipient Mr. TANAKA Manato(APS 2, Japan)spoke of his aspirations for the future, "I am eternally grateful to have been awarded this scholarship. I can remember as a high school student seeing images of poverty in Ethiopia. It was then that I began thinking about helping to create a world in which people take a greater interest in other nations. With this goal in mind, I'm currently studying journalism as an overseas exchange student. This goal is my passion and I will strive to achieve it". In response, President ANDO offered a word of encouragement, "With your passion and sense of justice, I am sure you will prevail".

President ANDO offered the scholarship recipients a further word of encouragement, "Businesses are becoming ever more internationalized. It is important for people to engage with different cultures and ways of thinking during their student years".

Following this meeting, the students then visited the Instant Raman Museum (Ikeda City), learned about the invention of instant noodles, and tried their hand at making some chicken-ramen for themselves. This visit proved to be a great opportunity for the students to reaffirm their goals and dreams and make a further commitment to ensure that they are realized.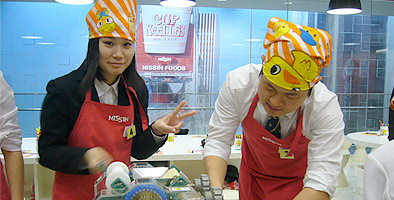 Details on the scholarship and recipients for AY2010 are as follows:

The ANDO Momofuku Honor Prize
Established through the courtesy of the late Honorary Doctor ANDO Momofuku, the founder of Nissin Food Products Co., Ltd. and honorary doctor. The scholarship aims to support undergraduate students who are scheduled to graduate and who have a strong desire to contribute to the Asia Pacific Region in their future careers. Each year one or two students are awarded this scholarship.

AY2010 recipients:
BLAVIESCIUNAITE Aiste (APS Grad, September'10, Lithuania)
LEE Hee-Woon (APS Grad, March'11, Korea)

The ANDO Momofuku Scholarship
Established through the courtesy of the late Honorary Doctor ANDO Momofuku. It aims to support students of high academic merit and insightful personalities who have participated extensively in extracurricular activities and displayed strong leadership qualities. One to four students in their 2nd or 3rd year are awarded this scholarship each year.

AY2010 recipients:
ISLAM MD. Shariful (APS3, Bangladesh)
NUMAKURA Arisa (APM3, Japan)
DENIS Martyn Francis Mario Andre (APS3, Belgium)
SANDUIJAV Tserendolgor (APS3, Mongolia)
TANAKA Manato (APS2, Japan)
OKAMOTO Hiroshi (APS2, Japan)
TAMBUNAN Nicole Amanda Rubbia (APM2, Indonesia)