On Friday, April 1, 2011, APU welcomed 983 new students at the 2011 Spring Entrance Ceremony held in the B-con Plaza Convention Hall, Beppu City.

This spring we welcome 920 undergraduate students from 31 countries and regions (723 domestic and 197 international), 20 graduate students (2 domestic and 18 international) and 43 short-term and exchange students (24 domestic and 19 international).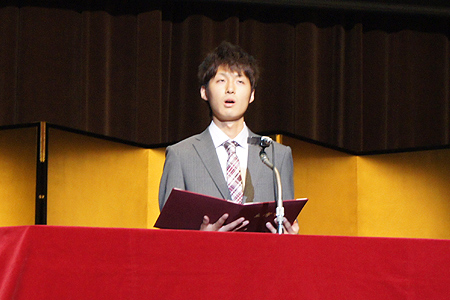 The ceremony began with a minute's silence in recognition of those who lost their lives in the recent Tohoku-Pacific Ocean Earthquake. President KORENAGA Shun welcomed the new entrants, "In the coming years, Japanese society will move towards a model of multicultural coexistence, with people of different racial and cultural backgrounds living together and respecting each other's differences. What this society of the future will require most is people with the ability to overcome language barriers, break down the borders of the mind, and interact with others as members of the same human race.
It is precisely these people that we are fostering at APU. Use your time at APU to develop your own capacity as an individual, and your qualities as a human being. Your value to society will be determined by the abilities and qualities you develop".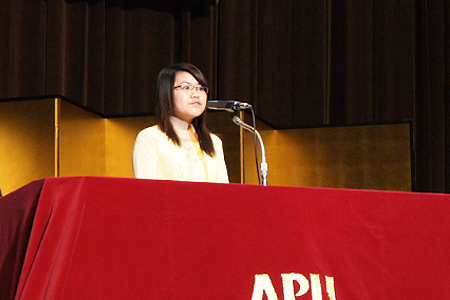 Following this, Ms. DINH Hai Tho (APM2, Vietnam) welcomed the new students as representative of the current students and new entrants Ms. LE Thi Vinh Ha (GSA, Vietnam) and Mr. YAMAZAKI Shori (APS, Japan) addressed the audience.

Mr. YAMAZAKI Shori addressed the audience, "My dream is to bring happiness to the children of the world. I chose APU to make this dream a reality. In this unique campus environment, I hope to break out of my old shell and meet a new me and in the future I would like to make the children of the world happy. The next four years will be wonderful journey into the unknown. Let us all take the first step toward making our dreams reality".

Ms. LE then greeted the audience, "After graduating from university in Hanoi, I was looking for an ideal academic environment where both of my passions – economics and Japan – could continue to grow. I was looking for an opportunity to both expand my horizons and obtain a master's degree and now I have found it. APU offers everything I was searching for. Studying at APU will ultimately lead me to my life's goal, which is to improve the living conditions in the Asia Pacific and in my home country of Vietnam".

As a finale to the Entrance Ceremony, current APU students introduced a number of student circles through short performances and gave their support to the new entrants as they begin their new life at APU.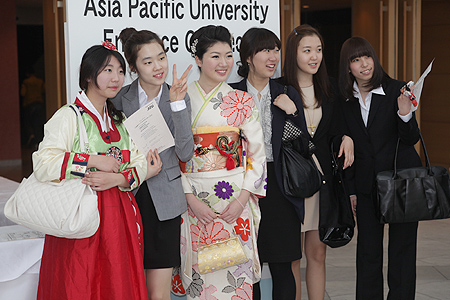 The Entrance ceremony was also broadcast live on the internet via Ustream. Footage can be viewed here.
Ustream Channel: http://www.ustream.tv/channel/Ritsumeikan-APU