On Monday, June 6, the first installment of the AY2011 Multicultural Weeks got under way with "Chinese Week". Multicultural Weeks are a perennial favorite on the APU event calendar and showcase the University's multicultural campus environment.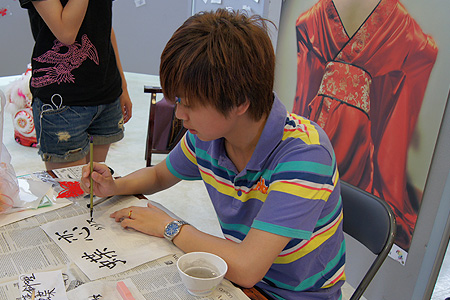 APU is currently home to students from 81 different countries and regions around the world. "Multicultural Weeks" offer students the opportunity to take the central role in planning a week-long event that puts the spotlight on one of the many nations represented on campus, their language and culture.

Entitled "The Butterfly Lovers", the Week will offer a glimpse into the world of "Liang Zhu" – one of China's four legendary folk stories – and will introduce various aspects of Chinese culture through Chinese ink paintings, a Chinese kite making workshop, paper cut-out art, a karaoke contest and concert featuring Chinese traditional musical instruments.

Held on the final day of the week, the "Grand Show" will retell the tragic love story of Liang Zhu through a range of traditional Chinese performing arts including kung-fu, a Chinese dragon dance and fan dance. For the duration of the week, a special range of familiar Chinese dishes will be available at the Cafeteria including Chinese dumplings, duck with cashews, and more at very reasonable prices.

This year's show will also feature performances by Chinese traditional performing arts circles including "C-sound", "C Dance" and "Xin Tianxia" who promise to add a special touch to the evening's entertainment.
We hope to see you there!

Schedule for Chinese Week

June 6 (Mon) – June 10 (Fri) 11:00-17:00 @ Cafeteria
Chinese calligraphy, ink paintings, Chinese kite making

June 6 (Mon) *as weather permits @ in front of fountain
Chinese kite flying

June 7 (Tue) 19:30-21:00 (doors open 19:00) @ Millennium Hall
Chinese traditional musical instrument performance
Featuring: erhu, gourd flute, seven-stringed koto, and a performance of Guanyin' (the thousand-armed Goddess of Mercy)

June 9 (Thu) 12:10-14:15 @ Cafeteria
Love song karaoke competition

June 10 (Fri) 18:30-20:30 (Doors open: 18:00)
Grand show
NB: to be streamed live via Ustream (18:30-20:30)

Participating countries for the Spring Semester 2011 Multicultural Weeks are as follows:

June 6 (Mon) – June 10 (Fri) First installment: Chinese Week
June 13 (Mon) – June 17 (Fri) Second installment: Vietnamese Week
June 20 (Mon) – June 24 (Fri) Third installment: Myanmar Week
June 27 (Mon) – July 1 (Fri) Fourth installment: Korean Week
July 4 (Mon) – July 8 (Fri) Fifth installment: Indonesia Week
July 11 (Mon) – July 15 (Fri) Sixth installment: Thai Week

NB: Footage of the Grand Show (held on the final day of each week) will be streamed live on the internet via Ustream. Please be sure to tune in and enjoy the colourful performances by APU's multilingual and multicultural students. (More information will be available on the broadcast times for each week as the event approaches).