On Wednesday, June 8, 2011, members of the Kansai Association of Small-Mid Sized Independent Businesses visited APU, met with students and enjoyed a guided tour of the campus.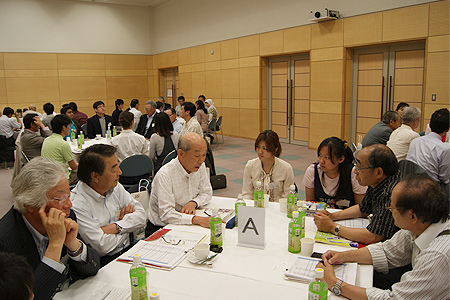 The discussions were kicked off by APU Vice-President HIRATA Junichi who gave a brief outline of APU, described the APU admissions policy and the establishment of APU's six overseas offices. He also spoke about why APU students are proving popular with employers, "In order to keep up with the rapid pace of globalisation in the marketplace, Japanese business are increasingly hiring graduates with a global outlook and outstanding communication skills. Our international students have come to APU from all over the world and are capable of adapting to the Japanese workplace. This is thanks to their language abilities including their first language, plus English and also fluent Japanese. Not only this, but they have also studied Japanese corporate culture and experienced living in Japan. APU domestic students also have a strong global outlook developed through working alongside international students and communicating and discussing issues with them on a daily basis".

APU students YOO Jin Wook (APS3, Korea) and NGUYEN Thi Thanh Tuyen (APM4, Vietnam) addressed the visitors on behalf of the student body. On the subject of Japan's rapid economic development following defeat in WWII, Ms. NGUYEN said, "the secret to Japan's economic success lies in the philosophy of the 'Good for all three' Omi merchant philosophy, in other words, 'good for the buyer, good for the community and good for the seller'. I look forward to applying the knowledge I gain at APU in my home country and contributing to the development of Vietnam".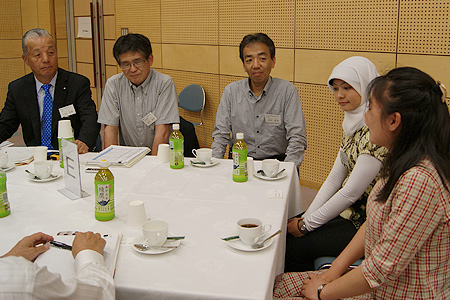 Following their meeting with APU students, a student at each table then emceed further group discussions.

Mr. OGAWA Shozo (Chairman of the Kansai Association of Small-Mid Sized Independent Businesses and Chairman of the Board of Directors at Kohoku Seiko, Co, Ltd) and Mr. NAKASAKU Yoshimasa (CEO at Nakasaku Co. Ltd) also offered a few words. Chairman OGAWA praised the APU students and gave his impression, "All the students who guided us around the campus were very approachable and spoke to us without hesitation. I was impressed with their knowledge and communication skills".