講演・シンポジウム|来学者
Jul 20, 2011
On, Thursday June 23, 2011, the U.S. Embassy Political Minister-Counselor Robert S. LUKE, accompanied by Mark DIEKER of the U.S. Consulate in Fukuoka, visited APU to deliver a lecture on America's Policy in Asia and the U.S.-Japan Relationship. This session was held as a part of the "International Politics and Security EA" course (instructor: Assistant Professor Steve B. Rothman, APS).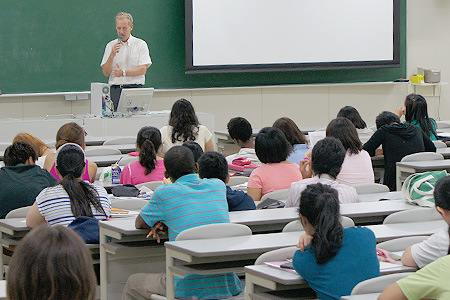 Mr. LUKE began his lecture by noting the strong presence of the U.S. in Asia and Japan by giving examples of President Obama and Secretary Hillary Clinton's recent visits to the region. He also stressed the importance of U.S.'s bilateral alliances with countries such as Japan, South Korea, and the Philippines and how this plays a major role in keeping stability in Asia Pacific region. Furthermore, he addressed the emerging countries of China, India, and Indonesia and suggested that cooperation with them is necessary to secure an international community to tackle global issues.

Next he informed the students about the effectiveness of the China-U.S. Strategic Economic Dialogue (SED). As opposed to the usual scripted conferences, the SED allows a "free-flowing" discussion which the Mr. LUKE suggested was "a broad dialogue covering security, economy and strategy". On another note, the he also discussed the recent "2 Plus 2" meeting with Japan on June 21 which offered the U.S. and Japan the opportunity to revisit its alliance and compare their present strategic objectives with a view to promoting cooperation and regional stability.

The lecture concluded with a Q&A session with the students. The students took this opportunity to discuss issues such as the territorial disputes between countries, U.S. military bases in Okinawa and the security situation on the Korean Peninsular.
Reporter, Student Press Assistant (SPA):ALTANBAGANA, Saruul (APM2, Mongolia)