教育プログラム|学生生活
Jul 21, 2011
The Freshman Intercultural Relations Study Trip, or FIRST Program, was held from June 2 - 5 in Korea for APU freshmen.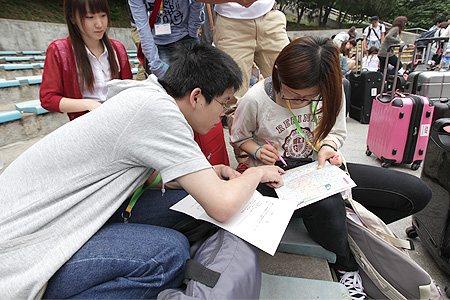 The FIRST Program is one of APU's Active Learning programs—programs that offer practical, experience-based learning—and aims to help first-year students gain insight into other cultures and set learning goals early by putting them into direct contact with foreign cultures and societies. This year a record 153 students participated in the program.

In the instructor-led pre-departure training sessions, students selected research topics and prepared for in-country research while learning Korean with assistance from Korean study Teaching Assistants (TAs).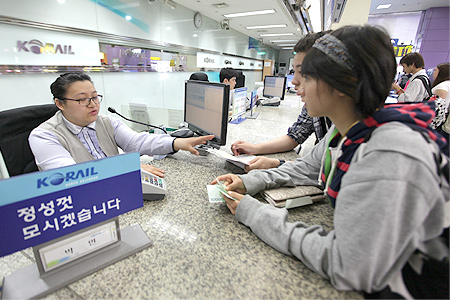 Students were divided into groups and each had to work together to conduct on-site research and find lodging. The students also enjoyed interacting with students from APU's partner universities in Korea. During the program, students could not merely rely on faculty chaperones and TAs; they had to actively engage locals in discussions, thereby developing their drive, decision-making ability and responsibility.

A presentation session was held on Wednesday, June 22, and each group reported the findings of their research on topics such as "Korean students' awareness of education" and "differences in Korean and Japanese customs".

FIRST participant HAYASHI Yuka (APM1, Japan) reflected on the trip, "I worked together with group members and TAs in a foreign environment, and developed strong ties with them. I learned how to carefully think about what needs to be done and to anticipate what actions I need to take to achieve my goals. It was a growing experience. "

Focusing on the elements of knowledge, experience and interaction, APU offers students the FIRST Program and many other Active Learning programs to pique their interest in foreign cultures and boost their motivation to learn. Based on their experiences in FIRST, program participants are expected to take the next step and join long-term study abroad programs, field studies and other high-level overseas programs.