Multicultural Camp 2011 was held on Saturday, June 25th and Sunday, June 26th at the Beppu youth nature center Ojika. The aim of the event was to promote intercultural exchange among students, and students from 11 countries including Nepal and Bangladesh participated.
The theme of this year's camp was "strong ties", and the intent was to build as many relationships as possible with people from different backgrounds. The schedule was completely rearranged due to inclement weather, but thanks to the camp leaders' quick-witted response, participants were able to enjoy activities without any trouble. During the camp, participants could be seen helping out on the various events and excited voices rang out through the venue.

One participant, SATOMI Tetsuro (APS1, Japan), commented on the event: "By joining this camp, I was able to interact with students from countries and regions I didn't even know about. This was an invaluable experience as it helped to lower my barrier towards foreign cultures."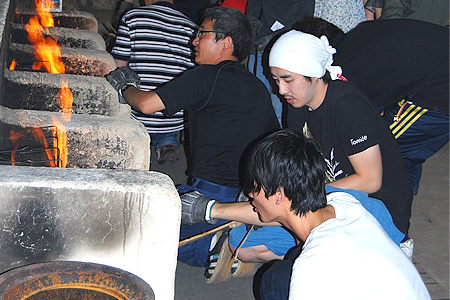 Working as camp leader for the second year, Oh Gun Moo (APM2, Korea), reflected on this year's event: "The leaders worked together to improve time management and offer a fuller range of activities. Not only did the participants interact at a deeper level, they engaged in the activities with clear goals in mind."

The 20 camp leaders who were selected to run the Multicultural Camp underwent training and prepared carefully for the event. Multicultural Camps are held twice a year in June and July to foster intercultural communication among students.
Reporter, Student Press Assistant (SPA):YAMAMOTO Hiroki (APM1, Japan)