On Friday, July 1, 2011, the Korean Week Grand Show was held at the APU Millennium Hall. The venue was packed with over 900 audience members who enjoyed the finale event of the 2011 Korean Week from their seat or standing in the aisles.
The famous Korean folk story "Chun-hyang Jeon" was selected as the theme for this year's show. The tale told the love story of Chun-hyang, a daughter of Gi-saeng (a Korean geisha) and Mong-ryong, a son of Yang-ban (a member of the noble class). Their story has touched the hearts of many and is a much celebrated Korean classic.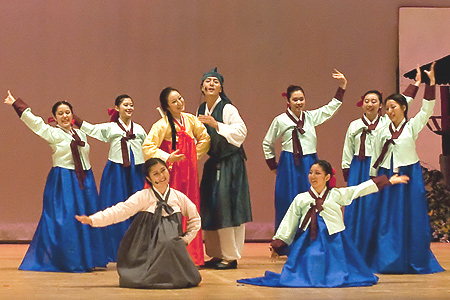 The musical arrangement of Chun-hyang Jeon featured outstanding performances by the main characters which captivated the audience. The audience was also able to experience other aspects of Korean traditional culture including Samulnori (Korean percussion instruments), Buchae-chum (dancing with fans) and much more.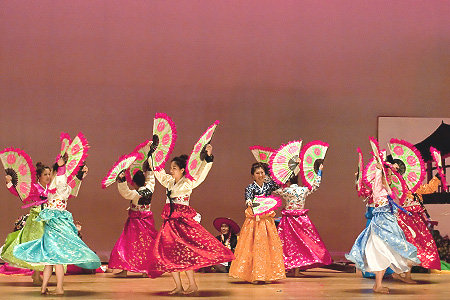 The representative of Korean Week 2011, KO Dae Seung (APS2, Korea) commented on the show, "We tried to introduce Korea's most famous folk story in the best way that we could and decided on a musical arrangement. I would like to say thank you to all the participants and ask everyone to look forward to Korean Week 2012 which we hope will be even greater!"

The efforts of 120 participants, including a large number of non-Koreans, blossomed on the stage and left a deep impression on the audience. TAKEUCHI Jun (APS4, Japan) spoke of how he was fascinated by the show, "To me, Korean Weeks are full of good memories and I miss my freshman year when I myself took part in Korean Week. I feel like visiting Korea because of today's show!"
Reporter, Student Press Assistant (SPA):KIM Yon Woo (APS4, Korea)