On Saturday, July 9, 2011, Habitat APU joined forces with nine student organisations from seven universities affiliated with the Kansai-Area Campus Chapter of Habitat for Humanity Japan (HFHJ) and launched a donation appeal in Oita City to support the reconstruction process underway in the areas affected by the recent Great Eastern Japan Earthquake.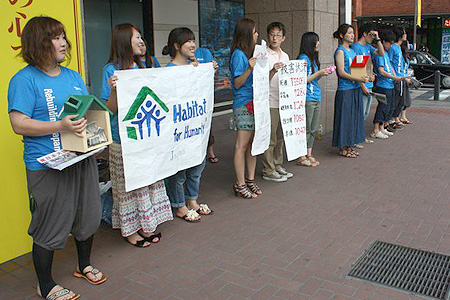 Habitat for Humanity is an international NGO working towards providing and improving dwellings for underprivileged people around the world. Habitat APU – the only HFHJ student chapter in Kyushu – joined forces with nine student organisations from seven universities affiliated with Habitat for Humanity Japan Kansai-Area Campus Chapter including Ritsumeikan University, Doshisha University, Kansai University, and Kwansei Gakuin University. Through this project, the participating chapters aim to assist the rebuilding process currently underway in areas affected by the recent earthquake. The group launched a similar donation appeal following the December 2010 Haiti earthquake and managed to raise approximately one-million yen for the rebuilding efforts.

On the day, thirty members of Habitat APU took part in the street donation appeal and raised 89,949 yen thanks to the many people who offered their generous support. Over the entire project, the donation appeals in Kansai and Kyushu managed to raise a total of 655,681 yen. All proceeds will be sent to the disaster areas via HFHJ.

Project deputy representative, YAMAMOTO Keima (APS1, Japan) commented on the project, "Taking part in this donation appeal has made me see that people in the local community are still very concerned about the impact of the recent earthquake. The road to recovery is still very long and there is a limit to how much we can do. However, we are by no means powerless and we will continue to do whatever we can to support the reconstruction of the affected areas.

In August later this year, Habitat APU will again carry out its annual "Global Village" housing construction project in Thailand.