On Wednesday, June 29, 2011, the "2011 Spring Semester Award and Scholarship Conferral Ceremony" was held at the APU Convention Hall. A number of individual and group awards were conferred including four winners of the ANDO Momofuku Award*, twenty-seven winners of the Academic Merit Scholarship, and twenty recipients of the Academic Merit Certificate.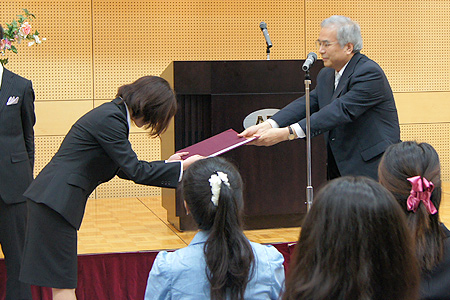 The ceremony began with an address by President KORENAGA Shun who then handed a representative recipient of the ANDO Momofuku Award with their certificate. Dean of the College of Asia Pacific Studies, Jeremy EADES, and Dean of the College of International Management, YOKOYAMA Kenji, then handed a student representative from each college with their certificate and praised their efforts.

Dean of Student Affairs, KIM Chan Hoe, offered his congratulations and presented the winners of the "Incentive Scholarship & Certificate for Self-motivated Students" and "APU-Club Domestic Students' Parents Association Self-motivated Student Scholarship". One individual student and ten organisations were awarded.

Winner of the ANDO Momofuku Award, HASHIMOTO Kana (APM3, Japan), said that "Upon hearing how people around the world were working to collect donations in response to the recent earthquake disaster, I felt for the first time how the entire world is linked together. My dream is to become a bridge that can link Japan with Asia, help us to rebuild Japan, and help the country get back the vitality it lost in the recent disasters".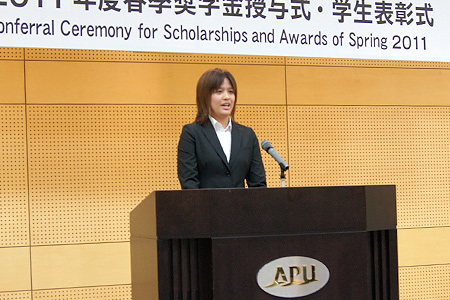 Academic Merit Scholarship winner, PUTARATORN Pornpannee (APM4, Thailand) also commented that, "Studying in Japan has given me so many great experiences and I want to help fellow students who want to study in Japan. My immediate goal is enter graduate school and learn more about business. In the future I hope to work for a Japanese company and help to forge a strong relationship between Japan and Thailand".

*The ANDO Momofuku Award was founded through the generosity of the late Honorary Doctor ANDO Momofuku, the founder of the Nissin Food Products Co., Ltd. to encourage and support students who have an outstanding academic record, are of good character, and have played a leading role in various activities.

2011 Spring Scholarship Winners
ANDO Momofuku Award
FUKAGAWA Kenzo APM (College of International Management)3、Japan
HASHIMOTO Kana APM (College of International Management)3、Japan
OH Gun Moo APM (College of International Management)2、Korea
KIMURA Kaori APM (College of International Management)2、Japan

Incentive Scholarship & Certificate for Self-motivated Students
Arauma Chiyo
Comic Story Telling Institute
Vietnamese Martial Arts Circle
APU Wind Orchestra
Calligraphy club
Bangladesh Week
PEACE VILLAGE INTERNATIONAL

APU-Club Domestic Students' Parents Association Self-motivated Students Scholarship
MUSY TONE
Cemi-tu'pui
Habitat APU
FUKUDA Kyoko APS(College of Asia Pacific Studies)4、Japan

Academic Merit Scholarship
ZHANG Yu APS(College of Asia Pacific Studies)4、China
DENIS Martyn Francis Mario Andre APS(College of Asia Pacific Studies)3、Belgium
SANDUIJAV Tserendolgor APS(College of Asia Pacific Studies)3、Mongolia
GU Pingyuan APS(College of Asia Pacific Studies)3、China
HUANG Zhongli APS(College of Asia Pacific Studies)2、China
PARK In Young APS(College of Asia Pacific Studies)2、Korea
MALAI Andrei APS(College of Asia Pacific Studies)2、Moldova
ARPANANTAKUL Manita APM(College of Asia Pacific Management)4、Thailand
PUTARATORN Pornpannee APM(College of Asia Pacific Management)4、Thailand
SRISA-AN Ploychompu APM(College of Asia Pacific Management)4、Thailand
WANG Chenxi APM(College of International Management)3、China
SETHURAM Shyamala APM(College of International Management)3、Thailand
ZHANG Pian APM(College of International Management)3、China
XU Xiaoye APM(College of International Management)3、China
WANG Xinke APM(College of International Management)3、China
SARTRAPAI Yanisa APM(College of International Management)3、Thailand
MAO Zhewei APM(College of International Management)2、China
ZHENG Rui APM(College of International Management)2、China
HA Se Ra APM(College of International Management)2、Korea
ISHISHITA Takanori APM(College of International Management)2、Japan
SAITO Hideo APM(College of International Management)2、Japan
WANG Jiaqi APM(College of International Management)2、China
YOSHIDA Gen APM(College of International Management)2、Japan
KAI Misato APM(College of International Management)2、Japan
PHAM Duy Hien APM(College of International Management)2、Vietnam
LYOU Jin APM(College of International Management)2、Korea
KATO Yushiro APM(College of International Management)2、Japan

Academic Merit Certificate
YOSHIDA Tsukushi APS(College of Asia Pacific Studies)4、Japan
TAMAKI Ayumi APS(College of Asia Pacific Studies)4、Japan
BAE Mihyun APS(College of Asia Pacific Studies)4、Korea
LEE Yu Na APS(College of Asia Pacific Studies)4、Korea
CHA Hyunjin APS(College of Asia Pacific Studies)4、Korea
GANG Xue APS(College of Asia Pacific Studies)3、China
LI Fan APS(College of Asia Pacific Studies)3、China
KIM In Hye APS(College of Asia Pacific Studies)3、Korea
YOO Jin Wook APS(College of Asia Pacific Studies)3、Korea
CHEN Lu APS(College of Asia Pacific Studies)2、China
AMASARA Yosephine Widya APS(College of Asia Pacific Studies)2、Indonesia
YOSHIOKA Saki APS(College of Asia Pacific Studies)2、Japan
SHIN Dong Uk APS(College of Asia Pacific Studies)2、Korea
SHIRAKAWA Rika APS(College of Asia Pacific Studies)2、Japan
HATANAKA Hana APS(College of Asia Pacific Studies)2、Japan
TAMURA Megumi APS(College of Asia Pacific Studies)2、Japan
RYOU Seung Hun APM(College of Asia Pacific Management)4、Korea
KIM Eun Sun APM(College of International Management)3、Korea
LOKNIYOM Chatchai APM(College of International Management)3、Thailand
XU Yibei APM(College of International Management)2、China
Reporter, Student Press Assistant (SPA):YAMAMOTO Hiroki (APM1, Japan)