Sixteen public officials from around Asia, representing departments such as the Ministry of Industry and Commerce and Ministry of Agriculture and Fisheries, came to APU for JICA-commissioned training from June 14 to June 30, 2011. The training was titled "Community Capacity and Rural Development Promotion for Asian Countries - One Village One Product (OVOP)" and included trainees from Armenia, Cambodia, China, Laos, Mongolia, Myanmar, Pakistan, Thailand, and East Timor.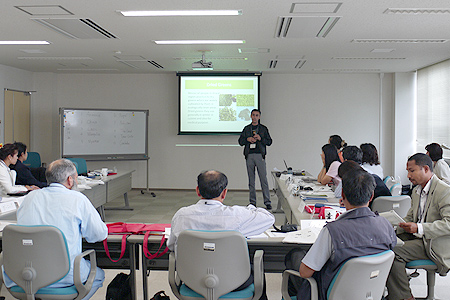 This training was focused on the concept of "community capacity development." The goal was for trainees to be able to introduce the OVOP Movement as a policy in their countries and develop systems for its effective implementation.

In addition to lectures covering theory, evaluation, and case studies of community development, trainees participated in lectures and on-site visits in Oyama-machi and other locations around Oita Prefecture. They were also able to hear about Beppu Hatto Onpaku and experience the program first hand. After this, they stayed in Himeshima Island, where they could experience and learn about various initiatives on the island, such as the local government's philosophy, activities of the Women's Association, and development of tourism. They also experienced the Nagasaki SARUKU program in Nagasaki city.

Mr. SHAKYA Ganesh (Senior Program Manager Agro Enterprise Centre Federation of Nepalese Chamber of Commerce and Industry, Nepal) gave his thoughts on the training. "I learned many things in Japan and was able to increase my knowledge of regional development. Now I know that regions have a lot of strengths that can be expanded to the world."

Since being commissioned by JICA in 2006, APU has received program trainees from all over the world. Another training program is scheduled after the fall of 2011, with public officials from Andes, Guatemala and Columbia coming to APU.