On November 26 and 27, 2005, Symposium on International English Language Education was held at APU on the occasion of APU's 5th anniversary. Information and Opinions on what kind of English Language education is expected in the countries which English is not their mother tongue such as Korea, Mainland China, Taiwan, Vietnam, and Thailand and what is currently expected and needed from English language education in the era of Asia Pacific were exchanged. The direction of English language education in the future in Japan was also discussed.
The symposium opened with a commemorative lecture by Mr. Akashi Yasushi, former UN Undersecretary-General, who for many years has been active on the international stage. Mr. Akashi pointed out that English language education is needed as a communication tool in order to compete on the future international stage based on his experience and gave participants a strong impression. He also explained the Ten knowledge in regards to the English acquisition by using an analogy from the Ten Commandments of Moses. "Silence is gold" was not considered as virtue in the global community, on the contrary, it was seen as an isolation and it was emphasized young generation needs to learn the pleasure to speak with confidence without being afraid of failure in the school education.
Specialists of English Language Education Organization from Asian countries represented and discussed on the condition of their countries and organizations in the panelist discussion followed after the lecture. Professor Chang from National Taiwan Normal University also introduced that English Language Education is called as the National Sports in Taiwan. Other panelists from China, Korea and Vietnam also said they are focusing on the improvement of National English-language ability and it is positioned as National strategy.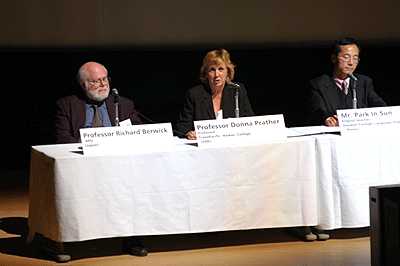 Lots of questions were raised and Professor Moon from International Graduate School of English suggested the creation of Konglish in Korea same as the Singlish in Singapore (Singaporean style of English). Asia might possibly create other English reflecting the reality of Asia and it will commonly be known to everyone in the future. It was revealed that English is becoming a common language in Asia Pacific region.
On the second day, 6 professors including Professor Berwick from APU demonstrated teaching methods as implemented in their respective schools. Students from APU and other students from 3 local high schools participated in the demonstration and they received a great impulse by the high-grade lecture than they expected. All venues exceeded the capacity and there was a live telecast in another room.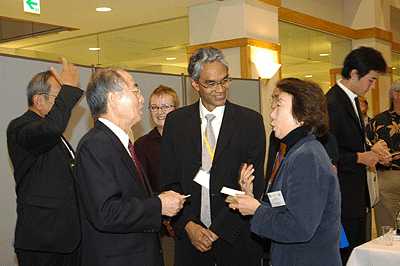 This 2-day symposium was carried out in English. A total of 567 people participated in this symposium and participants commented that they were soaked into English for these 2 days, it was not only an exciting experience but also the contents were even more stimulating.
Here are the lists of the English Language Education Organization which introduced the panelists.
- Daewon Foreign Language High School (Korea)
- Le Hong Phong High School (Vietnam)
- National Taiwan Normal University (Taiwan)
- Patumwan Demonstration School, Srinakharinwirot University (Thailand)
- Shanghai Foreign Language School (Mainland – China)
- International Graduate School of English (IGSE) (Korea)
- TransPacific Hawaii College (U.S.A)