On Friday, May 12, 2013, a certificate conferral ceremony was held to recognize the outstanding achievements of students who completed the APU Notebook. APU President KORENAGA Shun praised the efforts of the eleven recipients before handing each student a certificate of recognition.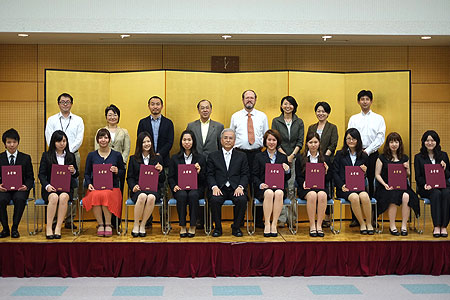 APU-Note is part of the University's pre-enrollment projects that invites soon-to-be APU domestic students* to learn more about the different countries and regions represented on campus by our international students**.
Each page of the APU-Note has a template for each of the different countries and regions represented on campus. The task offers students the opportunity to be creative, imaginative and use colors and pictures to introduce each country based on a theme of the students' choice.
This year the Grand Prize was awarded to HONGO Yuki (College of Asia Pacific Studies, Year 1, Japan).
Ms. HONGO made the following remark when she received her certificate. "It was difficult to find all the information I needed, but I went to the library everyday and read through lots of books. Finally completing the task gave me a great sense of satisfaction. Receiving this certificate made me realize that good things will come from hard work. In the future I aim to study abroad and get actively involved in volunteer projects and other activities".
*The term "Domestic Students" includes international students with non-Japanese nationality possessing residential status in Japan other than "college student".
**The term "International Students" denotes those students who possess a "college student visa".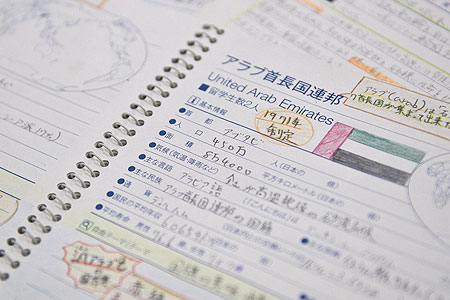 APU-Note Prize Winners
| | |
| --- | --- |
| Grand Prize | HONGO Yuki (College of Asia Pacific Studies (APS), Grad: Showa Women's High School, Showa Women's University) |
| Runner-up Prize | SAKAI Minami (APS), Grad: Oita Prefectural Nishi Oita High School |
| Runner-up Prize | NAGASHIMA Asako (APS), Grad: Takeda High School |
| Prize winner | KODAMA Ayaka (APS), Grad: Fukuoka Municipal Fukusho High School |
| Prize winner | MIYAMOTO Yuko (APS), Grad: Oita Prefectural Maizuru High School |
| Prize winner | SEKINE Yuka (APS), Grad: Kogakuin High School, Kogakuin University |
| Prize winner | MORISAKI Yui (APS), Grad: Oita Prefectural Maizuru High School |
| Special mention | INOUE Yuki (College of International Management (APM), Grad: Osaka Prefectural Ibaraki High School) |
| Special mention | FUJII Senju (APM), Grad: Hyogo Prefectural International High School |
| Special mention | UEO Yumiko (APS), Grad: Iwata High School |
| Special mention | NISHIKAWA Masahiro (APS), Grad: Osaka Prefectural Izumi High School |
Related links:
More information about the "APU-Note"
http://www.apu.ac.jp/home/gallery/article/?storyid=29
APU Exchange and Study Abroad Programs
http://www.apu.ac.jp/home/exchange/