On Tuesday, September 3rd, 2013, the Ambassador of the Republic of Fiji to Japan, His Excellency Mr. Isikeli Mataitoga, visited APU and met with APU President KORENAGA Shun and Vice-President (Student Affairs, Admissions) YAMAGAMI Susumu. The cordial meeting was also attended by other staff members from the Embassy of Fiji as well as the Honorary Consulate-General of the Republic of Fiji in Sendai, Mr. MORIYA Takayuki.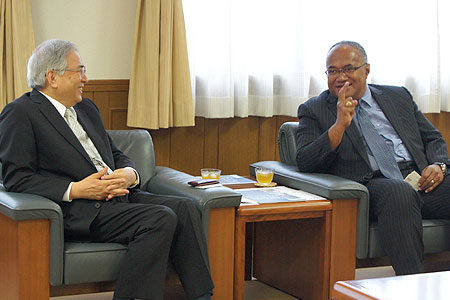 During their discussion, Ambassador Mataitoga noted that Japan is a popular study abroad destination for Fiji Nationals, and there is a need in Fiji for people who have a specialized knowledge of Japan and what it offers in line with Fiji's development priorities and needs. "We would like to send more students to APU" said the Ambassador, indicating an interest in further cooperation with APU. In response, President KORENAGA described some of the features of APU, including the flexible entrance system and some of the school's characteristics. "APU's program and curriculum are very well-developed, and the fact that you can study here without knowledge of Japanese is amazing", Ambassador Mataitoga commented.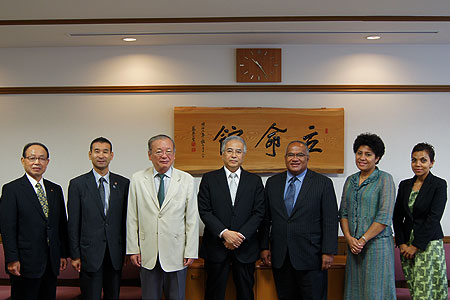 After meeting with school executives, the Ambassador then had a chance to meet with students from Fiji. Currently, there are 3 students from Fiji studying at APU.