教育プログラム|連携事業|来学者
Apr 14, 2014
On Wednesday April 2, 2014, the President of St. Edward's University (USA) Dr. George E. Martin visited the APU campus and planted a Japanese Torreya sapling in commemoration of the friendship between the two institutions. In addition to St. Edward's University (SEU) President Martin, the tree planting ceremony was also attended by APU President KORENAGA Shun, SEU Vice-President (Academic Affairs) Dr. Mary K. Boyd, and APU Dean of Admissions, KONDO Yuichi. In March 2013, APU President KORENAGA planted an oak tree during a courtesy visit to SEU.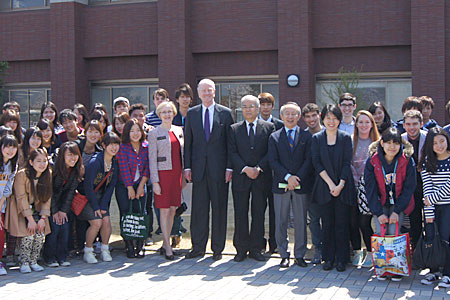 Since signing a Student Exchange Agreement in 2010, the two institutions have continued their student exchange, resulting thus far in 122 APU students and 84 SEU students being involved in programs sending them to the partner university. The universities are involved with various programs, including the APU-SEU Global Collaborative University Education (GLUE*) Program, a program adopted into the Ministry of Education, Culture, Sports, Science and Technology's (MEXT) "FY2011 Re-Inventing Japan Project"
The ceremony opened with participants taking a moments silence held in memory of the late Professor Cecil Lawson, who was committed to getting the GLUE Program up and running and who made it his personal mission to impart the Japanese culture onto his students.
At the tree planting ceremony APU President KORENAGA greeted participants with "I can imagine that the leaves of the Oak planted at SEU are swaying in the Austin breeze. I think the late Professor Cecil Lawson would be overjoyed if he knew how successful this program has become." SEU President Dr. MARTIN then said, "The Japanese Torreya being planted today has both strength and endurance. It will grow and spread its leaves, much like what we at SEU and APU are doing. Being unified in our efforts is the key."
Many participants gathered for the ceremony. One of the APU students who participated in the short term exchange (ACCESS) on the GLUE Program this Spring spoke about their thoughts on participating, saying "we had an SEU 'buddy' for each 3 Japanese students. We took both English and Japanese classes and went out shopping and for dinner with people other than our buddy too. It was a lot of fun!" WILKINS Taylor Browning, who came to APU two years ago from SEU to participate in the GLUE (Gateway program・SEAS program) and who is currently studying as an APU student (3rd year APS, America) spoke about his future goals, saying "I came to APU to be exposed to an array of cultures and broaden my horizons. I hope to become a teacher in the further."
SEU President Martin also gave a speech to the new enrollees at APU's Spring entrance ceremony held on April 1st. We look forward to continued cooperation and further development of these programs with SEU.
*APU-SEU Global Collaborative University Education (GLUE) Program The GLUE program, which has been adopted by the MEXT "2011 Re-Inventing Japan Project", works to create a high quality collaborative education program whose degree acquisition process, from pre-enrollment to liberal arts and specialized education, is globally recognized.