A ceremony to commemorate the placement of a donation box on the APU campus for an Oita Prefectural citizens fund named "Mejiron Foundation" was held at APU on September 25, 2014. The citizens of Oita Prefecture joined together with the prefectural government and corporations to establish this public interest incorporated association in January 2013. Donations to the Foundation from local residents and businesses will be given to NPO and volunteer groups in the form of grants that are conducting public service activities within the prefecture with a high social contribution level.
The economy, society, and natural environment of regional communities have been changing over the past ten years or so. Within these changes have arisen new types of societal issues that are unable to be dealt with under the old institutional framework of government and the private sector. Grassroots organizations are emerging that are beginning to work toward possible solutions on a small scale. Given the small scale of their activities in addition to a weak financial base and organizational framework, it is necessary to strengthen the business foundation of these organizations in order to attempt to further promote and spread their activities. The "Mejiron Foundation" was created with the aim of enhancing those types of organizations' operating base. "Child Line Oita," whose mission is to listen to and bring a sense of security to children with problems who have nowhere to go to talk to someone about them, was awarded a grant from the "Mejiron Foundation" in 2013. "Heartful Wave," which provides academic support to truant students, received a "Mejiron Foundation" grant in 2014. "Heartful Wave" is a free school that is run under the auspices of APU graduate SAIKI Wakako.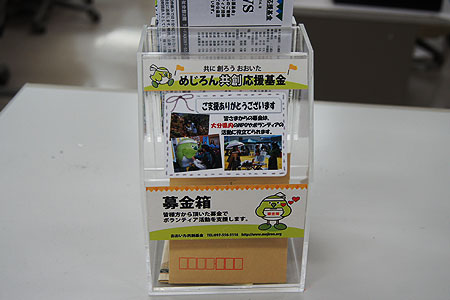 APU has decided to actively cooperate by placing a "Mejiron Foundation" donation box on campus as the Foundation's activities are instrumental in solving societal problems that are often overlooked and also contribute greatly to local communities. Ceremony participants included Representative Director MIURA and Director-General KUWANO of the "Mejiron Foundation" in addition to APU Vice-President KAMIKO who serves as a Trustee and APU Professor TSUKADA who is the Chairman of the Grant Screening Committee.
The "Mejiron Foundation" donation box is located on the counter in the APU Administration Office. Cooperation in the form of donations from APU faculty, staff, and parents of APU students who agree with the principles of the Foundation's activities are greatly appreciated. Please refer to http://www.mejiron.org for further details regarding the "Mejiron Foundation."