On January, 21st to 24th, APU had the pleasure of hosting Ms. Chemeli Kipkorir, Director of Admissions at African Leadership Academy (ALA). The main purpose of this visit was the signing of an agreement between the two institutions that would facilitate the entry of ALA graduates into APU. It also served as an opportunity for an ALA representative to observe APU.
The signing ceremony was held on the afternoon of the 21st.
African Leadership Academy is a residential, secondary institution located in Johannesburg, South Africa, that caters primarily to 15-18 year olds from all 54 African nations. It offers a two-year curriculum in African Studies and Entrepreneurial Leadership, in addition to the usual academic core subjects. It's mission is to develop the next generation of African leaders.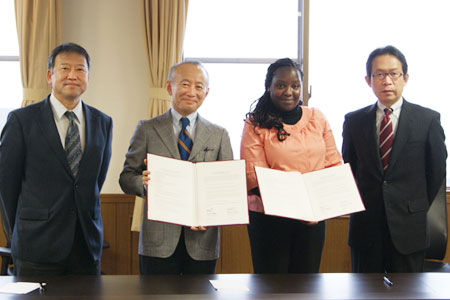 During her visit, Ms. Kipkorir had the opportunity to observe some classes, meet with students, faculty and staff and also attend some programs that were part of African Week. When asked for her thoughts, Ms. Kipkorir expressed deep satisfaction in the motivation of APU's diverse body of students and could draw many parallels with students at ALA. This sentiment matches that of APU officers who visited ALA previously.
As one of Japan's top global universities, APU continues to endeavor to offer the best possible learning environment to future leaders. We hope that this new relationship with ALA will produce human capital that have a far-reaching positive impact on Africa, Japan and the world.