教育プログラム|連携事業
Oct 14, 2017
This semester, APU started offering the first-ever collaborative classes with entertainment company Yoshimoto Kogyo.* The collaborative classes are part of the Media Production Lab subject, and the instructor is Mr. Nobuhiko Otani. An Oita native and member of the Dainoji comedy duo, Mr Otani is represented by the Yoshimoto Creative Agency. The topic for the course is "Communication and Entertainment: Making Oita a World City."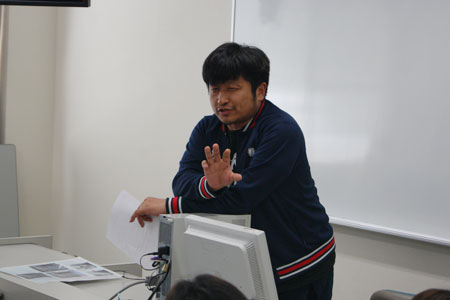 Twenty students interested in pursuing careers in the media industry signed up for the class. Coursework includes the creation of a short promotional video for Oita Prefecture with support from Mr. Otani and technical staff from Yoshimoto Kogyo.
Several media outlets came to APU to cover the guidance session for registered students on Tuesday, September 26. After introducing himself and talking about how much he loves his home prefecture of Oita, Mr. Otani told the students, "I want to work with you to create something entertaining that will help energize Oita. Because you live in Beppu, you know Beppu and Oita well, so I want you to create content that will highlight the area's attractions in an entertaining way. As the instructor, I will provide advice from an objective standpoint. I'm also looking forward to gaining inspiration from the diverse student body of APU." Surrounded by reporters, Mr. Otani was all smiles as he spoke passionately and tried to put the nervous-looking students at ease.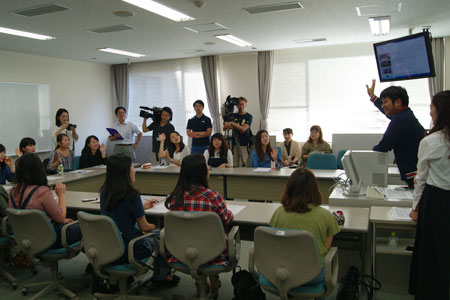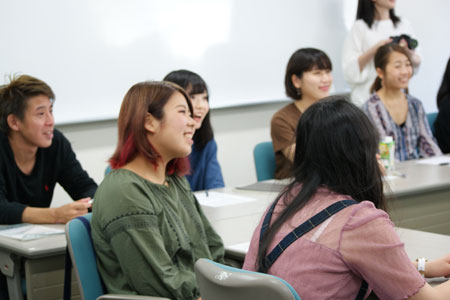 The first class was held on Monday, October 9. If possible, APU will post the students' videos on the internet, so be sure to keep an eye out for them.
* Last year, APU signed a partnership agreement for the purpose of developing global talent and contributing to the development of the local community with Yoshimoto Kogyo Co., Ltd., an integrated entertainment company specializing in talent management, planning, production, and distribution.