On June 14, APU alumni met with students in English classes to discuss language studies while at APU and post-graduation careers. The alumni gave advice, encouragement, and examples of paths to follow after graduation.
Anna Inada '14, College of International Management
Yuta Nagano '13, College of Asia Pacific Studies
Yohei Yagi '09, College of Asia Pacific Management*
While enrolled in APU, Anna Inada grew closer to her international student friends through her student activities, including being a member of GASS (Global Admissions Student Staff). She built up her English ability over time, making it a goal of using the language every day. According to her, it was difficult to reconcile the determination of international students to speak Japanese and her own desire to speak English. After graduating from APU, Inada studied in the UK. She then found employment with a Japanese apparel manufacturer, and experienced working in Ginza and New York, where most of that manufacturer's foreign customers are located. Among her takeaways from that experience are the uncommon trends exhibited by the Japanese fashion market compared to other places in the world. In her current position as an overseas promotion planner at a major Japanese cosmetics manufacturer, Inada aims to expand sales channels for her company's products around the world.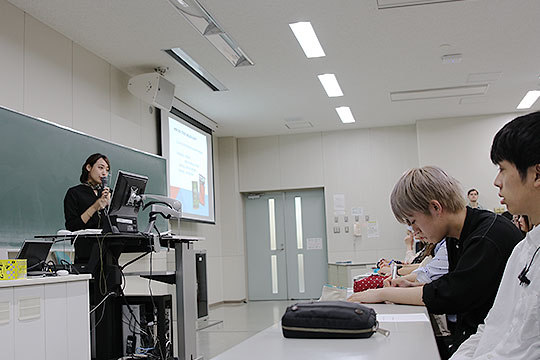 While a student at APU, Yuta Nagano reacquainted himself with the basics of the English language, building up from a junior high school level by taking advantage of SALC (Self-Access Learning Center) and the TOEFL examination. According to Nagano, he studied between four to five hours every day. Upon his international exchange in the UK, he took an internship at Grameen Bank, wrote his graduation thesis in English, and gave a speech as valedictorian at his graduation ceremony. After graduating APU, he worked at a major finance group, and is now active as the founder and CEO of a company developing a microfinance business in Cambodia. Nagano offered existing APU students the following advice: "English is like sports. You need to have solid fundamentals and revisit the areas where you come up short. Please study the language with a goal in mind."
Yohei Yagi currently works at the Malaysian branch of a Japanese enterprise that operates all over the world. This April, his work took him to Vietnam, Malaysia, India, Tokyo, and finally back to Malaysia. Yagi explained to students what kind of work he did over the course of those business travels. He says that when he initially entered APU, his English-language ability was comparable with a normal high-school student, but as he progressed through the university, he conversed in English with international students, received feedback from them, repeatedly practiced lines in English from movies, thought about and explained things in English, and made other efforts to enhance that ability. Today, Yagi uses English in his work, and encouraged existing APU students by saying that even if one's English pronunciation is accompanied by a unique accent, as long as they can communicate, they will experience no problems whatsoever in doing their jobs.
These lectures are part of the GOAL program. GOAL, or Global Alumni Lecture, is a program where graduates from all over the world are connected with students on the APU campus to share the knowledge and experience gained throughout their careers. Through both regular curriculum courses and extra-curricular events, the program highlights graduates who are playing active roles in the world. The program encourages students to think about how learning at APU connects to their careers after graduation It also supports students as they develop their career interests, and increases their motivation for learning while in school.
APU graduates who are playing an active role around the world are valuable assets to the APU community. The University will continue to provide and enhance activities that connect graduates, students, and faculty from all over the world.