A cooperative agreement between APU and Oita University was formalized on June 30, 2006.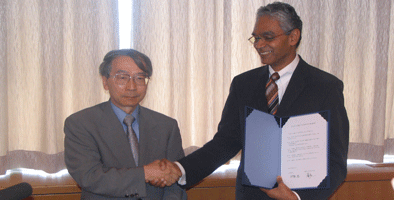 Over 230 universities abroad have entered into cooperative agreements with APU. Friendship exchange agreements also exist with a number of local municipalities in Beppu City and Oita Prefecture, but this cooperative agreement is the first of its kind to be signed with a domestic University.
APU was established thanks to the tremendous support received from Oita Prefecture, Beppu City and from across Japan and abroad. Through cooperation with a broad range of organizations, APU strives to further its endeavors to contribute to society.
Under the terms of the agreement with Oita University, the possibility of credit transfer programs, student/faculty exchanges, and academic exchanges are currently being examined.