As part of the 'JICA Bulgaria Business Human Resource Development Center Project' two trainees, Prof. DRAMALIEVA Valentina and Prof. ZABUNOV Georgi – lecturers from the Institute for Postgraduate Studies at the University of National and World Economy – Sofia (IPS) attended APU for the two-month program held from April the 2nd to May the 29th, 2007.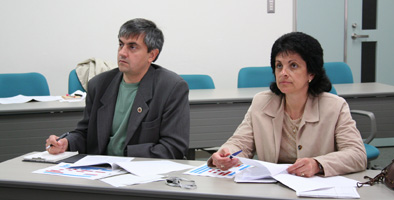 This is the fourth time this program has been carried out at APU, which aims to enhance the management skills of small-to-medium sized business owners who are enrolled in the IPS Program in Bulgaria.
In recognition of its role as an educational institution in the 21st century, APU pursues initiatives that both contribute to and promote international cooperation and the development of an international society. This is the mission of institutions belonging to the Ritsumeikan Academy. The 'JICA Bulgaria Business Human Resource Development Centre Project' received official development assistance (ODA) by the Japan International Cooperation Agency (JICA).
During the two month program, the trainees carried out field trips to Tokyo, Kansai and Kyushu, including Oita Prefecture. At APU the participants had the opportunity to undertake some classes offered under the MBA Program, meet with faculty and receive research guidance.
On commenting on the program, Prof. Valentina and Prof. Georgi said "Drawing on our experiences at APU, we hope to impart a Japanese-style of management to our students back in Bulgaria. Just like Japan, we hope our country will continue to strive to foster its history and traditions which shape its national identity."
The two trainees returned to their home country after the Closing Ceremony which was held at APU on May 29th.