'East Asia Roundtable 2007' - "Community Building in Diversity"
With support from the Ministry of Foreign Affairs (MOFA), APU in collaboration with the Association of Southeast Asian Nations (ASEAN) Secretariat hosted the 'East Asia Roundtable 2007' on the theme of "Community Building in Diversity" over 3-days from June 2nd to June 4th, 2007.
An 'Open Seminar' open to students and members of the public was held on June 2nd at APU (Room 202, Building H) on the theme of "Community Building in Diversity: Regional Trends towards East Asian Integration and Local Community Initiatives". Approximately 100 students and invited guests attended to listen to government officials and executives from ASEAN nations take part in a panel discussion.
During her keynote address, the Deputy Secretary General of ASEAN, Her Excellency Soeung RATHCHAVY said, "It is a historical year for ASEAN. In line with our mission, the Treaty of Amity and Cooperation has been completed and various nations are currently in the process of becoming signatories. I look forward to hearing the various opinions of the participants of the roundtable in regards to the unification of such a diverse range of countries. Within the context of challenges facing ASEAN, I hope to hear your thoughts on the advantages and disadvantages of unification, to what extent the treaty should be all embracing and open for all to participate."
Mr. Masayoshi Hamada, the Vice-Minister for Foreign Affairs of Japan also spoke at the seminar. His speech can be found on MOFA's website:
http://www.mofa.go.jp/announce/ps/address0706.html
After the Expert Group Meeting on the 3rd and the 4th, Inter-generational Exchange with experts and APU students were carried out in the afternoon of the 4th on the theme of "Mega Infrastructure Development", "Global Environmental Management", "Trans Border Cultural Exchanges" and "Cross Border People Movements". Former Prime Minister of Japan, Mr. MURAYAMA Tomiichi made a guest appearance to each of the workshops and offered words of encouragement to all the students present.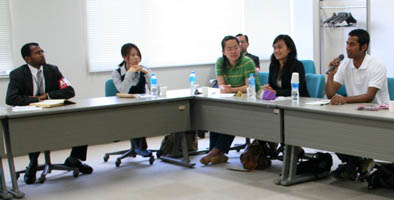 Mr. MKOUBOI Mohamed Chami (APM 4, Comoros) on commenting on the reason for choosing to participate in Workshop 4 on 'Public, private and academic partnerships to enhance contributions to community building in East Asia' as part of the Inter-Generational Exchange Program, said "I wanted to discover how education can reduce conflict among communities. I gained a great deal from listening to the experts and feel inspired to broaden my international experience and knowledge through participating in more symposiums of this kind."
One of the questions posed to the forty students who attended this workshop was "Are you optimistic or pessimistic in regards to future community building in diversity?" Many students responded that they must remain optimistic if they wanted to fulfill their mission to secure a bright and peaceful future for their generation and ones to come.
For details about the East Asia Roundtable 2007, please click
here
.