As part of the recently introduced 'AP House Program' initiative, a field trip to the northern region of Oita Prefecture was held out on Tuesday, June 5th, 2007.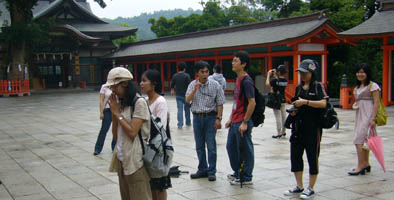 About thirty AP House residents took advantage of their quarter break and visited the Daihatsu Motor Kyushu., Ltd Factory, Usa Shrine and Oita Prefectural Museum of History.
The field trip was a good opportunity for AP residents to spend time outside of the campus and get in touch with local industries and tourist attractions within Oita Prefecture.
More field trips that give students the chance to deepen their understanding of the local area are being planned.