A 'FIRST' presentation on the cross cultural experience program for 1st year students was held on Wednesday, June 13th, 2007 inside Classroom F103.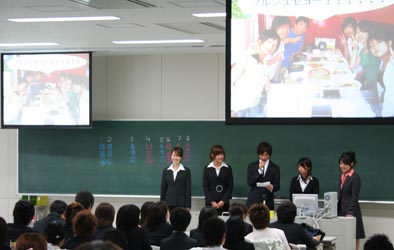 FIRST stands for 'Freshman Intercultural Relations Study Trip' and is a program geared towards students who have no prior experience of studying abroad. It aims to expose freshmen to Asian culture and society, to increase their understanding of different cultures and to prepare them for four years of study at APU.

Before departure, students participate in basic language training and they have the opportunity to investigate cultural and societal issues as well as exchange opinions with other university students in the host countries. The program is held during the spring and fall quarter breaks so it doesn't interfere with regular classes.

During the spring quarter break in 2007, 39 APU students participated in study trips to Hong Kong and Korea. During the 'FIRST' presentation session, participants reported on their overseas experiences, and students interested in study abroad listened attentively to the speeches.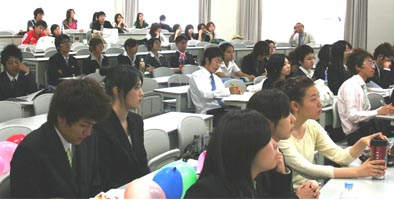 Please click on the following links for photographs and video clips of the Hong Kong and Korea Program:

Hong Kong Program
Photographs: (http://picasaweb.google.com/apu.academicoutreach/1FIRST02)
Video Clips: (http://picasaweb.google.com/apu.academicoutreach/FIRST02)

Korea Program
Photos: (http://picasaweb.google.com/apu.academicoutreach/1FIRST)
Video Clips: (http://picasaweb.google.com/Yuri.ICHIMIYA/BHJBgK)