Thai Week commenced at APU on Monday, July 16.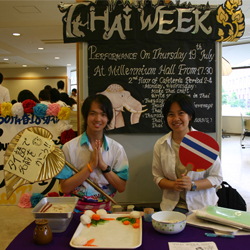 APU actively pursues 'Global Active Learning' – a program which encourages students to participate in on-site participatory learning in Japan or abroad. Last year many domestic students took part in 'Fieldwork on Experiencing South East Asia' and the 'Walailak University Course on Ecotourism' offered in Thailand. It was a wonderful opportunity for students to expand their knowledge on things relating to this historical country.
Throughout Thai Week, students may try their hand at making Thai handicrafts and sample free Thai beverages at the APU Cafeteria. On Thursday, the last day of Thai Week, traditional dances, music and a fashion show will take place at APU's Millennium Hall.
Please refer to the program for 'Thai Week' below.
Thai Week - July 16 (Mon.) – July 19 (Thu.)
July 16 (Mon.) to July 19 (Thu.)
Event
: 'Thailand – The Land of Smiles'
Program
:
Monday - Free sampling of traditional Thai fruit juices
Tuesday - Thai name plate making
Wednesday - Thai handicraft making
Thursday - Same as Monday
Time
: 10:35-15:50
Venue
: APU Cafeteria
*'Thailand – The Land of Smiles' will be held everyday at the same time and place during Thai Week
July 19 (Thu.)
Event
: Various performances
Program
: Thai dancing, singing, fashion show
Time
: 18:00-20:30
Venue
: APU Millennium Hall