The Information System Assistants, known as Information SA's, consist of 43 existing APU students, who help to resolve a range of problems that may arise when the computers located in the Information Processing buildings are in use.
The Rainbow Staff on the other hand, are a group of existing students of Ritsumeikan University, who carry out informative classes on how to use and manage the equipment in the university's Multi Media Room and other areas.
In order to enhance the quality of the training of APU's Information SA organisation, 12 Information SA's, including 7 international students, were sent to attend the Information SA & Rainbow Staff Exchange Project held at Ritsumeikan University from Thursday 27th September to Sunday 30th September.
As part of the Exchange Project, the Information SA's had the chance to join the Rainbow Staff Training Course and an opinion exchange to enhance the structure of both organisations was also conducted.
It proved to be a great opportunity for APU's Information SA's to further boost their unity and skills before the start of the 2007 Fall semester.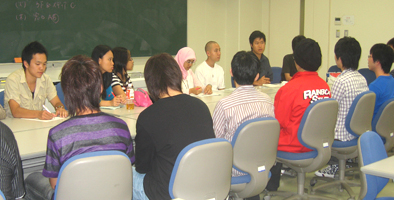 For further information on the duties of the Information SA please click here:

URL: http://www.apu.ac.jp/apuinformation/vol16/campus/index.htm