The "78th Kyushu District University Baseball Championship" took place at a venue in Kumamoto from Wednesday 3rd to Sunday 7th October. The APU Baseball Club entered the tournament and made it to the best eight after securing two great wins.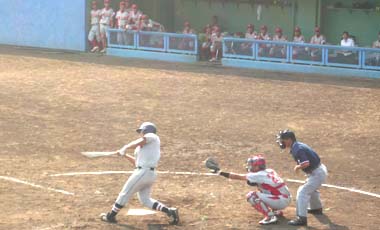 This year is the sixth time for the APU Baseball Club to enter the championship and in their opening match they beat Kumamoto Gakuen University by 6 – 3, and then they achieved a 2 – 1 victory over the National Institute of Fitness and Sports in Kanoya.
The team captain, Mr. YAMADA, Hiroaki (APM3, Japan) said, "While bouncing ideas around at practice games before the tournament, we were able to work hard on our technique right until the last minute. In the match the pitcher was crucial in safeguarding the team from defeat, and I believe that as the winning team, holding our opponents' score to a minimum was the key that led us to victory. Reflecting on this past year, we will do our best to win as many matches as possible in the next tournament, so that we can have the chance to advance to the national championship at Jingu Stadium".
The APU Baseball Club is constantly recruiting new members and practice takes place on Wednesdays at 14.00 and Saturdays at 9.00 at the APU sports ground. So for those of you who are interested, please go along anytime and join in!