14 students from The Georgia Institute of Technology in Atlanta, Georgia in the United States of America have been attending a 4 week Short-term Japanese Language Program at APU from May 7th to June 2nd.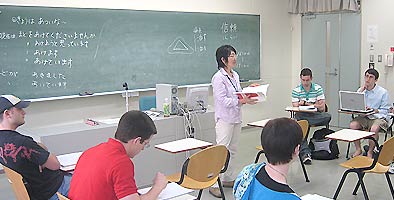 This program consisted of intensive Japanese courses, with a focus on business and science, taught by Georgia Tech and APU faculty. In addition, the students deepen their understanding of Japanese and Japanese culture by participating in field trips to Japanese companies such as Sapporo Breweries Factory and Nissan Kyushu Plant and to Nagasaki city. The 14 participants experience APU campus life during the program by staying at AP House and through exchange with their APU Buddies.
The Georgia Institute of Technology is one of the nation's top technology universities in the US and always reaches the top 10 in the state universities. The institute has an ESL school on campus and welcomes international students actively. The institute enhances the business and academia collaboration with Japanese firms and offers the technology and products to Japan.