The Model United Nations 'Golden UN CAMP 2008' was held on May the 24th and 25th in the Multipurpose Hall at APU.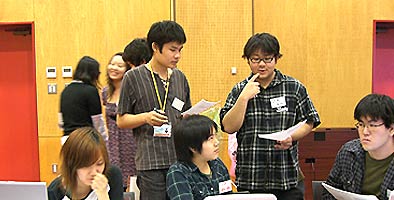 The Model United Nations involves participating students taking on the roles of foreign diplomats and simulating United Nations conferences. Participants are educated first hand in the decision-making processes used by the United Nations. The Model UN began at Harvard University in 1923. Activities in Japan started in 1983, under the advisement of Ms. Sadako OGATA, who was lecturing at Sophia University at the time. Currently, more than 400 students participate in Model UN activities throughout Japan.
The Golden UN CAMP is held every August as a pre-session to the 'Model United Nations Conference Kyushu Summer Session.' The topic for this year's session was 'The Threat by Terrorism on Peace and Security.' The 30 participating APU students engaged in lively discussions.
APU Model United Nations representative, Mr. MAEHARA Hironobu (APS2, Japan), recounted the session by saying 'the session was set up as the September 28th UN Security Council meeting that followed the September 11 terrorist attacks. Participants discussed what measures the international community should use to fight terrorism. Each student assumed the role of a foreign diplomat and discussed terrorism from the standpoint of the country they were representing. The opportunity to view terrorism from such diversified perspectives was indeed an invaluable experience. I was particularly impressed at how involved the 1st year students were.'