On Thursday June the 5th 2008, 4 executive administrative directors from Chongqing University of Medical Science (CQMU), who started a one month special training program at the middle of May to learn about university administration at APU and Ritsumeikan University, held a debriefing session at APU to talk about the results of their training and the university system in China.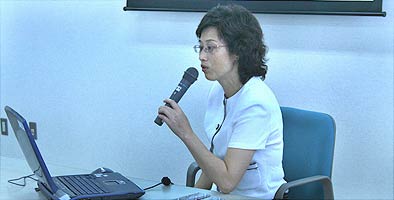 All 4 trainees presented a report. Ms. Yang Hong, Director of International Exchange, commented "we learned not only about university administration but also about the way of thinking and attitudes held towards work. I hope to maintain good relationships between APU and CQMU." APU faculty who made lectures during the training period also attended the session.
Between May the 11th and June the 6th, the trainees attended special lectures by APU faculty and staff, learning about APU's management policies, education program and student support services. From June the 9th they will be heading to Kyoto to attend a one week training session at Ritsumeikan University.
CQMU is located in the state neighboring Sichuan, which was devastated by an earthquake at the middle of last month. Doctors and nurses from the university hospital were sent to the devastated region to assist relief efforts. CQMU, the trainees and their families were not affected directly. The trainees did however join in fund raising activities with APU students, to help raise money for the earthquake victims.
APU's pioneering approach, in regards to its culturally diversified and multilingual campus and bilingual Japanese and English education system, has been praised by universities around the globe. For this reason APU has, since its inception in the year 2000, welcomed a large number of trainees. The ODA made it possible for CQMU executives to come to APU for their training.