On Wednesday May 28th 2008, APU students' organization 'APU-CT' held the '1st Microsoft Seminar' in the APU Multipurpose Hall. 65 students attended the event.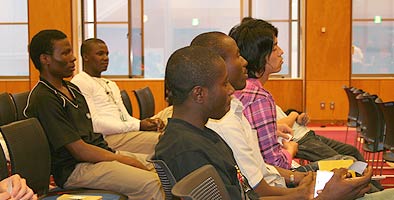 The seminar was made possible through the Microsoft Student Partners (MSP) program, a program designed by Microsoft to support IT enthusiastic students in advancing their technical know-how by holding computer workshops and seminars etc. The program supported the seminar through offering monetary aid and free software.
Seminar participants listened eagerly to descriptions of software, the importance of computer technology, and how computer skills and know-how can be advantageous during job hunting. In the later part of the seminar, a lottery giving out free Software added to the fun.
The representative for this seminar, and Microsoft Student Partner, Bilesanmi YUSUF (APS3、Nigeria) commented after the seminar that "I planned this seminar to enhance APU students' IT skills. I believe the seminar has motivated the many students who took part into wanting to go out and acquire more IT skills."