On Tuesday July the 15th, The Mayor of Hita City, Mr. SATO Yoichi offered a special lecture entitled "Transaction on Environmental issues as an environmentally friendly city" at APU. His speech covers how Hita City conducts the transaction of environmental issues and local issues.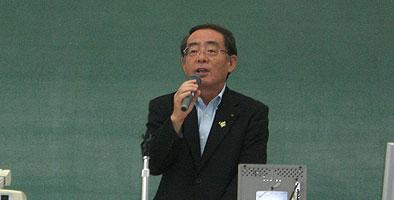 This special lecture is planned in order to commemorate a friendship and exchange agreement between APU and Hita City which will formalize on Friday July 25th. Hita City got a certification of an official environment management system ISO 14001 in 1998. It is involved in mitigating environmental issues as an environmentally friendly city. APU wants students to become awareness of environmental issues from Hita City with a certain environmental policy. SATO Mayor said, "Hita City boasts its pure and delicious water. We are working hard to increase the attained percentage of the sewage treatment and to conduct many transactions for eco-friendly such as biomass power and the Reduce and Recycle movement." Finally SATO Mayor read aloud the Chinese style poem "Kyudou No Si" "Once you decide to concentrate on studies, don't say it is hard---" written by HIROSE Tansou, a famous Confucianism scholar from Hita City. He also gave encouraging words to the students, saying "Please utilize this precious opportunity for study with your friends who have the same passion"
This lecture was conducted at the Urban Environment Class, which LI Yan Associate Professor takes charge of. Not only students taking that paper, but many students interested in local governance and environmental issue attended the class.
APU and Hita City have organized numerous international exchange activities such as APU student's visiting primary and junior high schools and home stay programs in Hita City. Students from primary through to high schools in Hit also visited APU campus.