For the two days of Saturday the 9th and Saturday the 30th of August, the APU Open Campus is being held for high school students, parents and guardians and teachers.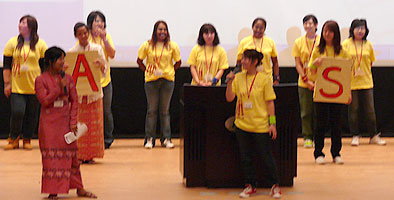 The previous, and first, APU Open Campus was held on the 21st of July and approximately 860 high school students, parents and guardians came along. To open with, a traditional dance show was performed by APU students. At the APU Cafeteria, cuisine from various countries such as Thai, Vietnam and Indonesia were on display. As well as this, there were events where one could experience mock APU classes and lectures. Among these activities, a university English entrance exam strategy class entitled "The most direct way to passing APU entrance exams" was held by a well known entrance examination preparation school teacher and proved to be very popular. It was visited by many people –enough to overflow the site. Many high school students participated in campus tours and in a cultural exchange with international students. They were able to see how the students live in the communal rooms at AP House. The students' hopes were raised by the multicultural campus life which APU boasts.
APU Global Admissions Student Staff (GASS) are cooperating with the various events in the Open Campus. GASS will try to convey the attractiveness of APU to students preparing to take university entrance exams and their parents and guardians from the standpoint of an APU student. GASS Representative USHIJIMA Haruna (APS3 Japan) gave the high school students the following message: "Encounters that leave an impression make people grow and develop. Please feel close to the world at APU, where students from 81 countries and regions study. Everyone at GASS is looking forward to meeting you"
The Open Campus to be held on the 9th and 30th of August will also have campus tours, mock lectures, the latest APU entrance exam information and entrance exam strategy lectures held by non APU lecturers. This is a valuable opportunity to experience the multicultural and multilingual APU campus. APU staff and APU Global Admissions Student Staff (GASS) are all waiting for you to come along.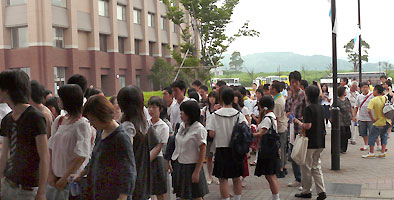 We also welcome the participation of teachers, parents and guardians.
On the day, APU will provide 1000yen round trip tickets for those people traveling by bus from Kitakyushu, Fukuoka, Kurume, Kumamoto and will provide 2000yen round trip tickets for those traveling by ferry and bus from Osaka. We hope you will take advantage of this service. However, please note that prior booking is essential and the number of available tickets is limited.
APU Open Campus Dates (Times: 11:30-17:00 * registration will begin from 11:00)
2. Saturday, August 9th, 2008
3. Saturday, August 30 2008
4. Saturday, October 25 2008
5. Saturday, March 28 2009
*Reservations not required
Click here for more details.
http://www.apumate.net/opencampus08/index.html
For questions regarding campus tours, application form requests or other general enquiries, please contact the Admissions Office (Domestic – TEL 0977-78-1120) between office hours – 9:00 am to 5:30pm, Monday to Friday.