On Thursday September 11, an AED training session was held for the new AP House RAs (Resident Assistants).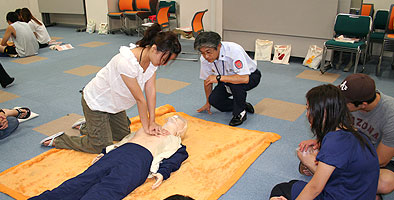 The 16 new RAs used a life sized mannequin to experience practicing giving CPR and using a disconnected AED unit.
One of the participating new RAs said "It was my first time to take AED training and it was a great learning experience to learn how to use it. I hope I never have to use it but I will make sure to use it properly in an emergency".
550 new residents (530 international, 20 Domestic) are planned to enter AP House between the 15th and 17th of September to bring the total of residents living together up to 1300. RA's are student staff who support the new residents and international students to ensure that their life at the dormitory goes smoothly. There is currently a total of 64 RAs (2 on each floor) and were recruited half a year ago.
It is compulsory in Japan to have an AED installed in every hospital and public facilities. Training sessions in local municipalities are actively being held.
The AP House Homepage
http://www.apu.ac.jp/circle/aphouse/index-en.html